'Fantastic Beasts' Movies Will Span 19 Years And They All Have A Director Attached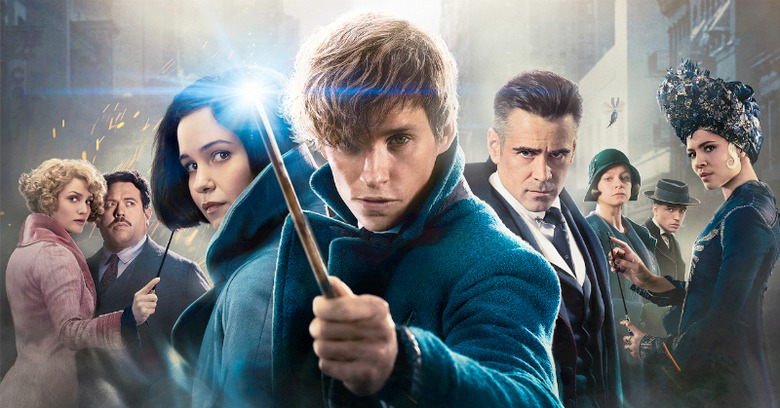 Long before Fantastic Beasts and Where to Find Them was even close to hitting theaters, we were made aware that a trilogy was planned for the Harry Potter spin-off title directed by David Yates. However, just last month fans were surprised to learn that what was once a trilogy was now being planned as a five film series, according to Harry Potter author and first-time screenwriter J.K. Rowling.
Now some new details on those sequels have surfaced regarding just how much time the sequels will cover in the wizarding world, and who will be directing the sequels from here on out. Find out the new details on the Fantastic Beasts sequels after the jump.
First up, Variety chatted with J.K. Rowling on the red carpet of the premiere for Fantastic Beasts and Where to Find Them, and she revealed how they came to the decision to make five films:
Harry Potter author @jk_rowling explains the decision to make 5 #FantasticBeasts movies pic.twitter.com/yWm2Fw3Mht

— Variety (@Variety) November 10, 2016
For those who can't watch the video for whatever reason, here's what Rowling said:
"Originally, to tell you the truth, we said a trilogy as a placeholder. We wanted to be honest with people that it was going to be more than one movie, but we were feeling our way. Then, there came a point in the drafting of our story where I said to David [Yates], 'You know, this feels like five movies, and I think I'm pretty certain about that.' It's ambitious to tell it in five to be honest because we're spanning 19 years, but I can see an arc to five – so that's how it happened. It came out of the material."
Hopefully this isn't the kind of situation where Warner Bros. decided to expand The Hobbit films from two movie into three without really needing to. Fans surely trust that J.K. Rowling knows how much time is required to tell the stories she wants to tell. And even though most of the world hasn't seen the movie yet, the early buzz indicates that this is a worthy spin-off franchise with its own style and some fantastic new characters to expand the wizarding world.
What's interesting is that all these movies are meant to span 19 years of narrative time in the wizarding world. Does that mean all of the movies will unfold over 19 years in the way that the Harry Potter movies mostly unfolded over 7 years? Or will there be flashbacks that make it so that the total story spans nearly two decades?
However, it wouldn't be surprising to see a story that plays out over a long period of time, especially with something as epic as the conflict between the dark wizard Grindelwald (to be played by Johnny Depp) and a younger Albus Dumbledore (yet to be cast) being set up to be played out in the coming movies. Perhaps this could be something that unfolds similar to how the Marvel cinematic universe has led to a larger conflict.
The question is just how many of these characters will we be following for the whole franchise. Will Eddie Redmayne be the primary hero for the whole franchise? That seems to be the plan, but will Katherine Waterston stick with him? Will the other characters played by Ezra Miller, Colin Farrell, Alison Sudol, Carmen Ejogo and Dan Fogler be involved in multiple movies? We're not sure how many of them survive this first movie, so we'll have to wait and see what the future holds, though we do have some hints of who may return and what to expect from the story.
One thing we do know now is that David Yates will be directing each movie in the franchise. The director recently spoke to The Hollywood Reporter and revealed that he's on board to be at the helm of every sequel in the franchise. But for now, we just have to wait one more week for Fantastic Beasts and Where to Find Them on November 18.