'Ghost In The Shell' Anime Director Visits The Live-Action Adaptation's Set In A New Featurette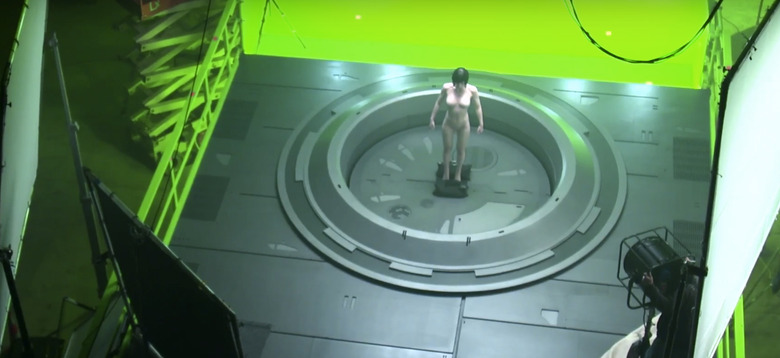 If the recent video from the set of Ghost in the Shell featuring one of the numbskulls from Entertainment Tonight asking Scarlett Johansson stupid questions didn't give you the behind the scenes glimpse of the movie you were hoping for, we have something better today.
A new Ghost in the Shell featurette has been released that features the director of the original anime, Mamoru Oshii, paying a visit to the set in New Zealand. And since this is official publicity material, he obviously has some nice things to say about the movie's vision for adapting his work.
Watch the Ghost in the Shell featurette after the jump.
The Japanese filmmaker praises Scarlett Johansson's performance in the movie as the human cyborg hybrid Major, saying that she has gone above any beyond his expectations. It's your typical kind of publicity hype in the form of a featurette, but that's to be expected when you're trying to convince passionate fans to take a chance on a new iteration of something they love. Plus, Oshii doesn't appear as much as you might like, opting for talking heads from director Rupert Sanders and a couple other crew members to fill the rest of the time.
The good news is that the footage from the set of Ghost in the Shell looks fantastic, even without the visual effects to complete it. There are some extremely cool shots of Johansson in action on set, kicking ass and taking names. Plus, the production design on set looks outstanding, adhering pretty closely to the details of the visuals of the anime.
What remains to be seen is if audiences who were upset about Ghost in the Shell whitewashing the lead role instead of casting an Asian actress will give the movie a chance. You can't blame them for wanting to see something a little more in line with the original anime, but show business doesn't seem eager to take what they consider to be a risk at the box office. But hopefully that will change soon.
Based on the internationally-acclaimed sci-fi property, "GHOST IN THE SHELL" follows the Major, a special ops, one-of-a-kind human-cyborg hybrid, who leads the elite task force Section 9. Devoted to stopping the most dangerous criminals and extremists, Section 9 is faced with an enemy whose singular goal is to wipe out Hanka Robotic's advancements in cyber technology.
Ghost in The Shell hits theaters next spring on March 31, 2017.