'Solace' Trailer: The Movie That Was Almost A 'Se7en' Sequel Gets A Trailer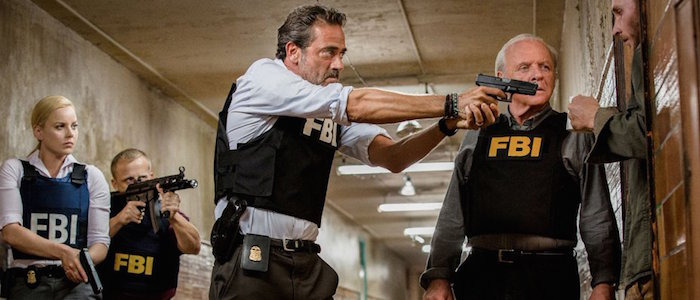 Perhaps the most interesting thing about Solace is that its screenplay was once retrofitted into a sequel to David Fincher's Se7en, with Morgan Freeman's Detective Somerset coming out of retirement to hunt down a new serial killer. Of course, that take died in development and now we have a movie closer to the original screenplay: an FBI agent played by Jeffrey Dean Morgan teams up with a psychic doctor played by Anthony Hopkins to hunt down a psychic serial killer played by Colin Farrell. Wait...this was supposed to be a Se7en sequel?
Ponder that question as you watch the new trailer.
Solace was actually shot in 2013 and has spent the better part of three years sitting on a shelf awaiting release. The first trailer for the film was released well over a year ago. It's being dumped into theaters on the same day as Rogue One: A Star Wars Story. The footage features Anthony Hopkins firing a gun in exxxtreme slow motion while a CGI bullet flies across the screen. Look, I've been writing about movies long enough to know a bunch of warning signs when I see 'em. Anyway, here's the Solace trailer:
But let's not dwell solely on the negative here! I like watching Jeffrey Dean Morgan do his well-worn tough guy act, I can't help but appreciate Anthony Hopkins (even when he's sleepwalking), and Colin Farrell is usually at his best when he's tasked with playing a villain. Maybe they can make this fun? Maybe the movie is better than the trailer looks? If this movie can function as a passable B-movie mystery, it may enough.
Solace is directed by Alfonso Poyart opens on December 16. Here's the official synopsis:
When FBI Special Agent Joe Merriwether (Jeffrey Dean Morgan) is unable to solve a series of homicides, he decides to enlist the help of his former colleague Dr. John Clancy (Anthony Hopkins), a retired physician with psychic powers. The reclusive Clancy, who shuttered his practice and retreated from the world following the death of his daughter and subsequent break-up of his marriage, wants nothing to do with the case. He soon changes his mind after seeing disturbingly violent visions of Joe's partner, FBI Special Agent Katherine Cowles's (Abbie Cornish) ultimate demise. When Clancy's exceptional intuitive powers put him on the trail of a suspect, Charles Ambrose (Colin Farrell), the doctor soon realizes his abilities are no match against the extraordinary powers of this vicious murderer on a mission.