'Underworld: Blood Wars' Trailer: Wait...They Made Five Of These Movies?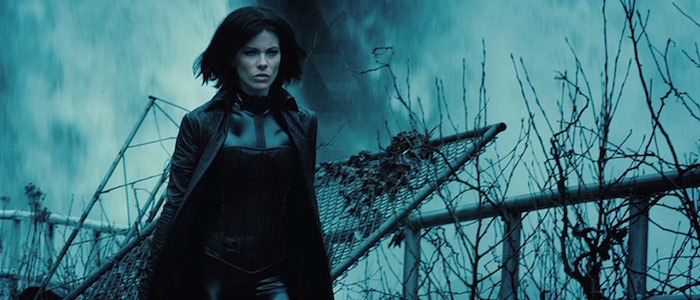 Holy s***, they actually made five Underworld movies.
I mean...did you know that there were five Underworld movies? I think everyone knew that there were two or three of them, maybe a fourth one. But nooo. Over the course of 13 years, the Powers That Be have quietly made five movies where Kate Beckinsale plays a black leather corset-wearing vampire who shoots werewolves in the face while respectable British actors ham it up on the sidelines. How did that happen?
Anyway, a new Underworld Blood Wars trailer has arrived and it's pretty much exactly what you'd expect from a new Underworld movie.
Before you click play on the trailer below, let's note a few things. First, Blood Wars is the feature debut of director Anna Foerster, a veteran TV director, visual effects artist, and cinematographer. As someone who strongly advocates for more female voices behind movie cameras, I have to pause and offer a polite smattering of applause. Men shouldn't hold a monopoly on silly action movies! Women can make modestly budgeted genre movies about sexy vampires punching sexy werewolves, too!
Second, Blood Wars is a miniature Game of Thrones reunion, with Charles Dance and Tobias Menzies playing the respective leaders of the vampire and werewolf clans. That is all.
The Underworld series is like the Resident Evil's goth younger sibling, smoking stolen cigarettes behind the school and filling notebooks with words like "Death Dealer" and "Vampire-Corvinus hybrid." Both series focus on a badass woman with supernatural powers who is really good at killing monsters in slow motion. Both have become career-defining (if unlikely) franchises for their talented leading ladies. Both feature continuities and mythologies that have become increasingly impossible to follow. Both of them consist of more films than you realize. And both of them consist of movies that were produced on budgets small enough that even a modest gross puts them deep in the black. That's why they made Underworld movies.
While the worst Resident Evil movie is worse than the worst Underworld movie, the best Underworld movie is not as good as the best Resident Evil movie. When it comes to graded-on-a-scale genre junk food, Underworld has been the more consistent of the two without ever achieving the same highs and lows. I fully expect Blood Wars to be exactly what everyone thinks it's going to be.
Underworld: Blood Wars opens on January 6, 2017. You can watch previous trailers here and here. Here's the official synopsis:
Under the new leadership of Marius, the Lycans have increased in numbers and strength and have decimated many of the vampire covens throughout the world. With the Vampire race being on the brink of extinction, it is up to Selene to save the very coven which banished her and hunted her down as a criminal. Selene must become stronger than ever to defeat what's in store for her next.