VOTD: How The 'Saturday Night Live' Make-Up & Hair Team Pulls Off Miracles Each Week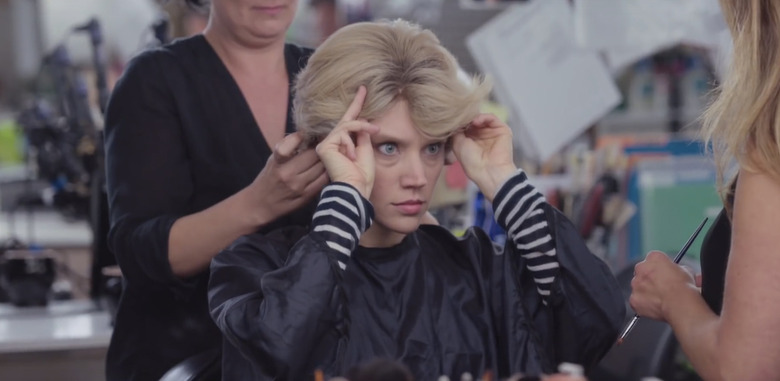 We can't stress enough how much of a miracle it is that an episode of Saturday Night Live even happens. While plenty will jump at an opportunity to criticize SNL and say it's not as funny as the last iteration of the cast, that's just how the cycle of criticism works for this show. But again, the fact that there's even a show to air at all is nothing short of incredible.
SNL is put together in the span of a single week. But much of the work that you end up seeing when the episode airs live on Saturday night, as far as the sets, wardrobe, hair and make-up is concerned, is done in half that time, because the sketches for the show aren't even decided until the Wednesday before the episode airs.
A new Saturday Night Live behind the scenes featurette shows how the make-up and hair department, led by Louie Zakarian and Jodi Mancuso respectively, pulls that off with a special focus Alec Baldwin as Donald Trump and Kate McKinnon as Hillary Clinton.
Now for these specific "characters," the make-up and hair department doesn't have to create new wigs and whatnot every time there's a new political sketch. However, that's usually only one out of the usual 10 or so sketches that make it to air. Most of the time, entirely new wigs and prosthetics have to be made from scratch for various sketches (and the same goes for most of the sets you see as well).
I can't imagine the stress that comes with this job. The story about Lorne Michaels asking Louie to make a change between dress rehearsal and the show, marking the first time in 22 years that the show's boss has called him into the office, sounds like it would have been so nerve-wracking. And yet somehow, they pull it off without a hitch (most of the time) every week.
The question now is, are we going to keep seeing Alec Baldwin as Donald Trump now that he's the president elect, or will SNL try to figure out which of their cast members can do the best Donald Trump impression? Taran Killam is gone so he's out, and Darrell Hammond isn't an official cast member, but reprised his impression a few times during the primary season. We'll just have to wait and see how this all plays out in the coming weeks.
Saturday Night Live has another new episode with Dave Chappelle hosting on November 12th. But if you'd like an in-depth look behind the scenes of the show, watch James Franco's documentary Saturday Night, with unprecedented access to the show's inner-workings, available on Hulu now.