Why 'Fantastic Beasts' Cast Johnny Depp As Grindelwald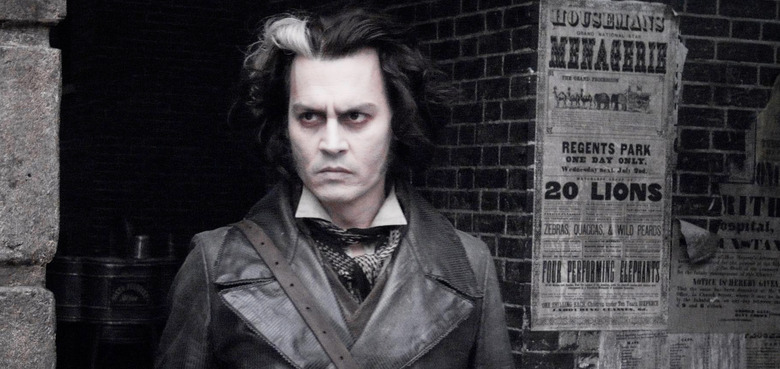 We're still over a week out from seeing Fantastic Beasts and Where to Find Them hit theaters, but we already know that Johnny Depp will be playing the pivotal role of the villain Grindelwald, a dark wizard whom Harry Potter fans will be very familiar with. In fact, he'll be making a brief appearance in the first movie, and his conflict with Hogwarts professor Albus Dumbledore will be a key part of the sequel with casting for the latter role currently underway.
Since Johnny Depp was cast in Fantastic Beasts and Where to Find Them 2 (which will likely have a different title when all is said and done), some fans haven't been too happy with his casting. After all, Depp hasn't been turning in the best work as of late, and his career has turned into a bit of a joke. So how did we end up getting Johnny Depp in Fantastic Beasts and Where to Find Them 2? Find out after the jump.
Director David Yates and producer David Heyman recently sat down for an interview with The Leaky Cauldron to help promote the first film in what will now be at least a five film franchise, and they talked about what brought them to pick Johnny Depp for the role. First up was Yates, giving praise to Depp's skills as an actor:
Johnny Depp is a real artist. He's created several characters who have really resonated in our popular culture. He's a really brilliant, brilliant actor. We were excited about seeing what he would do with this guy, the character. He's fearless; he's imaginative; he's ambitious. We thought he would do something fun and special. So we went for him, purely on that selfish basis. We don't care if he's famous or not famous. We just know he's interesting.
Heyman followed up by adding:
Grindelwald is an iconic character, so it was important to have someone who had that weight. There's a reason why he has that weight. It's because, you know, he's a fine actor who makes unexpected choices.
While I'm not necessarily the biggest fan of Johnny Depp right now, I'm actually interested in seeing what he can do with this character. We haven't seen Depp play a villain like this before, though he was rather sinister in Sweeney Todd: The Demon Barber of Fleet Street, so this could be a great turnaround for him. I just want him to play a character that feels real again. A fantasy movie may not sound like the best place to do that, but it's not impossible.
However, with Grindelwald becoming such an important part of the future of the franchise, will this still really be Fantastic Beasts and Where to Find Them? Yates admits that magical creatures aren't quite as prominent in the sequel at this moment:
Currently the beasts feature slightly less in the second film, and Grindelwald takes more of a foreground. Currently. But we love the beasts so much. There's an amazing beast in the second movie–a Chinese beast, actually–that is featured. We're exploring how we can get a couple more beasts into the second film, with [J.K. Rowling].
David Heyman came up with an approach that may allow them to stick with the title:
In a way the beasts are the creatures in the case. But it's also the beast in each of us. [...] I think beasts will continue to play a part in some score. It's also so much a part of what Jo writes about. It's the consequences of repression.
If anything, I'd be willing to bet that the next title will be something like Fantastic Beasts: Insert Subtitle Here. I also wouldn't mind if they ditched that title and just went with something completely different. But first, let's see how Fantastic Beasts and Where to Find Them turns out.