'Ghost In The Shell' Behind The Scenes Video Shows Scarlett Johansson In Action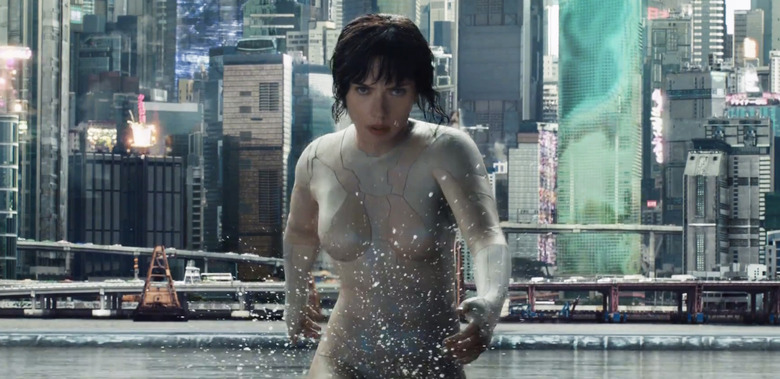 This weekend, we'll be getting the first full trailer for Ghost in the Shell, the live-action adaptation of the anime of the same name. There's a whole big event planned over in Tokyo where the trailer will be unveiled, and who knows what else will be coming from across the world.
While we're waiting for the trailer to arrive, we've got a brief look behind the scenes of the set down in New Zealand, which doubles as the mid-twenty-first century fictional Japanese city of Niihama. If you can handle the overly enthusiastic mannequin of a host from Entertainment Tonight, you can get a glimpse of some of the action on set, as well as a quick chat with star Scarlett Johansson.
Watch the Ghost in the Shell behind the scenes video after the jump.
I'm just glad that the interviewer asked about how Scarlett Johansson's baby feels about her haircut for the movie. These are the hard-hitting questions that movie fans care about. Obviously Entertainment Tonight isn't looking to appeal to movie fans who are already aware of Ghost in the Shell, but they also don't do anything to make the movie appealing to anyone who isn't already familiar with the title.
In addition to Scarlett Johansson starring in the lead role, the cast also includes Takeshi Kitano as Section 9 chief Daisuke Aramaki, Michael Pitt as Kuze, Pilou Asbæk as the Major's second-in-command Batou, Juliette Binoche as Dr. Ouelet, Kaori Momoi in an unnamed role, and Chin Han, Danusia Samal, Yutaka Izumihara and Tuwanda Manyimo as various members of Section 9.
If you want to see more from Ghost in the Shell, check out the teaser for the forthcoming trailer over here. Or you can catch brief snippets of footage from the glitchy teaser videos that hit the web back in September. Otherwise, check back here Sunday to see the full trailer for Ghost in the Shell.
Based on the internationally-acclaimed sci-fi property, "GHOST IN THE SHELL" follows the Major, a special ops, one-of-a-kind human-cyborg hybrid, who leads the elite task force Section 9. Devoted to stopping the most dangerous criminals and extremists, Section 9 is faced with an enemy whose singular goal is to wipe out Hanka Robotic's advancements in cyber technology.
Ghost in The Shell is directed by Rupert Sanders, and it hits theaters next spring on March 31, 2017.