'Triple Threat' Will Unite Tony Jaa, Tiger Chen, And Iko Uwais For Three Times The Ass-Kicking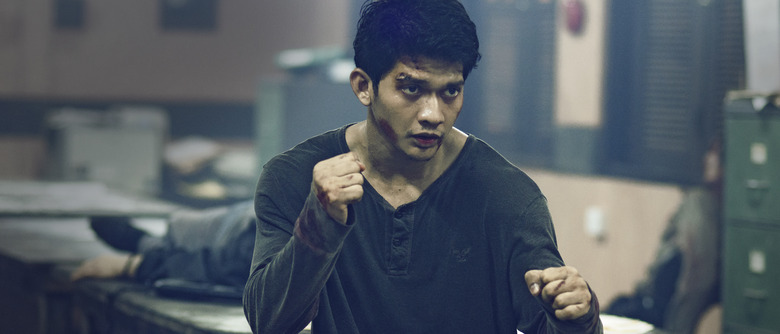 Do you want to hear a really, really good idea? How about an action movie that unites the stars of Ong-Bak, Man of Tai Chi, and The Raid and lets them do what they do best. That's the selling point of the appropriately titled Triple Threat, the latest film to be revealed at the American Film Market and a project that I would very much like to have injected into my eyeballs right now, thank you very much.
The story comes our way via The Hollywood Reporter, who report that Dwayne Smith wrote the screenplay and Wang Xiaolie will direct. Chad Stahelski, a veteran stunt man, stunt coordinator, and the director of both John Wick movies, will coordinate the action design.
Of course, the big news here are the three men in front of the camera: Thailand's Tony Jaa, China's Tiger Chen, and Indonesia's Iko Uwais, three of the most exciting actors and martial artists currently working on the international stage. If the plot description from THR is any indication, Chen will act as the default lead of the movie which "...revolves around a Chinese martial artist who goes to Mexico to rescue his ex-wife and their son after they are kidnapped by a drug cartel."
Based on his co-stars and the title of the movie, we can safely assume that he finds some back-up.
As is always the case when martial artists from various backgrounds team up or face off, the instant appeal of Triple Threat is the chance to watch these very different performers showcase their fighting styles. Let's start with Chen, who began his career on the stunt team for The Matrix, had a small role in The Matrix Reloaded, and ultimately started in Keanu Reeves' very good directorial debut, Man of Tai Chi.
Tony Jaa is most famous of this trio and he's best known for starring in the Ong-Bak series and directing the second and third films in the trilogy. More recently, he played a small role in Furious 7 and will trade blows with Vin Diesel again in xXx: Return of Xander Cage. Although it's not his best movie, I think about this astonishing one-take action scene from Tom-Yum-Goong (known in the United States as The Protector) quite often:
Iko Uwais is the youngest of the bunch, but his work in The Raid and The Raid 2 instantly established him as a talent to watch. Although he was wasted in a tiny role in Star Wars: The Force Awakens, his work in Headshot is further evidence that he's someone we should keep our eyes on:
It's still early days for Triple Threat, but this is, by default, one of my most anticipated movies of whatever year it decides to come out.