'Rogue One' Set Photos Show Off Some Old School Filmmaking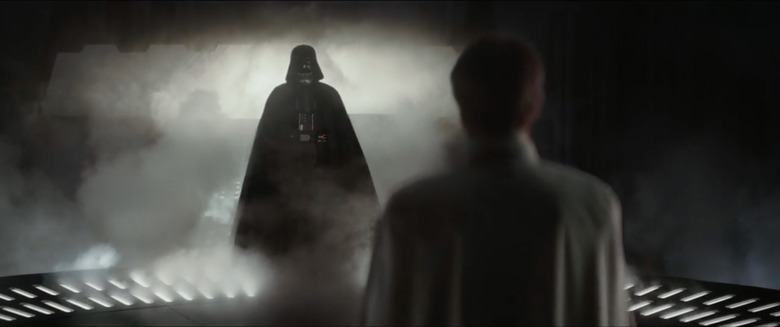 We're a little more than a month away from the release of Rogue One: A Star Wars Story, which means we've officially moved out of the "Every Trailer Is a Special Event!" phase and into the "Let's Blanket the World With TV Spots Because Normal People Need to Know About This Movie Too!" phase. However, this phase also includes a new batch of cool images taken on the Rogue One set, showing practical locations, actors in alien costumes, and some old school special effects being filmed.
The new images (which we found over at Star Wars Aficionado) showcase a set where there are just as many practical locations as there are green screens and just as many people walking around in latex as there are digitally created monsters. A year later, the combination of the practical and the digital remains the most striking element of Star Wars: The Force Awakens and that looks like it could continue with Rogue One. Blending the old and the new only serves to complement one another – an obviously digital creation is easier to accept if it is presented in a recognizable physical context. A little bit of grounding goes a long way to making the impossible feel possible.
You can peruse the images in the gallery below. While they all have something to offer, I especially enjoy the glimpse of the front projection system being used to simulate a jump to hyperspace and the shot of Warwick Davis, the saga's good luck charm, chilling out between takes while someone holds his alien head. As a bonus exercise, look carefully at director Gareth Edwards and try to discern exactly how exhausted he is at that very moment. You can check out a few more images at the link above.
And while we're here, Rogue One screenwriter Gary Whitta shared the Mexican poster for the film, which places the cast of characters in the space above Yavin IV (the home of the secret Rebel Alliance base first seen in the original Star Wars).
Wow Mexico's #RogueOne poster is heavy on the Yavin and appropriately gorgeous! (h/t @pepelo14) pic.twitter.com/Ol0t83xM5d

— Gary Whitta (@garywhitta) November 7, 2016
Rogue One: A Star Wars Story opens on December 16, 2016. In the event that you've spent the past year living in a hyper-sleep pod of some kind, here's the official synopsis:
From Lucasfilm comes the first of the Star Wars standalone films, "Rogue One: A Star Wars Story," an all-new epic adventure. In a time of conflict, a group of unlikely heroes band together on a mission to steal the plans to the Death Star, the Empire's ultimate weapon of destruction. This key event in the Star Wars timeline brings together ordinary people who choose to do extraordinary things, and in doing so, become part of something greater than themselves.
"Rogue One: A Star Wars Story" is directed by Gareth Edwards and stars Felicity Jones, Diego Luna, Ben Mendelsohn, Donnie Yen, Mads Mikkelsen, Alan Tudyk, Riz Ahmed, with Jiang Wen and Forest Whitaker. Kathleen Kennedy, Allison Shearmur and Simon Emanuel are producing, with John Knoll and Jason McGatlin serving as executive producers. "Rogue One: A Star Wars Story" opens in U.S. theaters on December 16, 2016.