The Rebels Face A Terrible Weapon In New 'Rogue One' TV Spot And Banners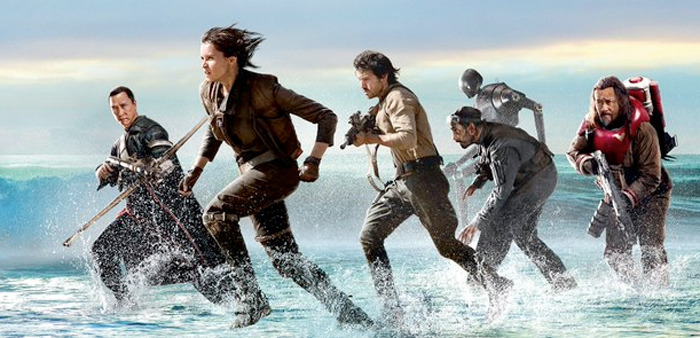 Next month brings another anticipated Star Wars movie to the big screen, but as every fan knows, this one will be a little more different. Rogue One: A Star Wars Story marks the first spin-off from the primary Star Wars saga storyline, and while The Clone Wars brought an animated version of the Star Wars universe to life on the big screen awhile back, this is the first live-action movie that isn't a milestone episode in the long-running franchise.
To keep the hype train rolling along, a new Rogue One TV spot has debuted with some snippets of new footage to hold us over until that sneak preview hits ABC around Thanksgiving. In addition, two new banners have cropped up from the United Kingdom featuring our Rebel heroes and those poor marksman known as Stormtroopers charging at each other on the beaches of Scarif.
First up, here's the new Rogue One TV spot that debuted recently on the Star Wars UK Facebook page:
There's not much new footage in there, but we do get a couple new lines from Felicity Jones as Jyn Erso. The action in this movie looks incredible. That battle on Scarif feels like it's going to be an all timer for the Star Wars movies. There's just something awesome about seeing X-Wings and U-Wings zooming th while the new AT-ACT walkers stomp around blasting everything in sight.
That's not all we have for Rogue One goodies today as these two wide banners also popped up on the Star Wars UK Twitter account today with the unit designated as Rogue One charging at Imperial troops in the waters of Scarif:


It looks like you can piece the banners together if you've got some basic Photoshop editing skills, but I don't know where you're going to utilize such a wide horizontal banner like that. Someone with more Photoshop skills could probably bridge them together and make it so the combined image wouldn't be quite so wide. However, the skills used to put the Rebels other than Jyn Erso and Cassian Andor (Diego Luna) on the beach aren't so great, because the rest of the team looks totally out of place there.
Anyway, we don't have much longer before Rogue One hits theaters, and we're bound to get a barrage of new previews showing off more from the movie as the release gets closer.
From Lucasfilm comes the first of the Star Wars standalone films, "Rogue One: A Star Wars Story," an all-new epic adventure. In a time of conflict, a group of unlikely heroes band together on a mission to steal the plans to the Death Star, the Empire's ultimate weapon of destruction. This key event in the Star Wars timeline brings together ordinary people who choose to do extraordinary things, and in doing so, become part of something greater than themselves.
"Rogue One: A Star Wars Story" is directed by Gareth Edwards and stars Felicity Jones, Diego Luna, Ben Mendelsohn, Donnie Yen, Mads Mikkelsen, Alan Tudyk, Riz Ahmed, with Jiang Wen and Forest Whitaker. Kathleen Kennedy, Allison Shearmur and Simon Emanuel are producing, with John Knoll and Jason McGatlin serving as executive producers. "Rogue One: A Star Wars Story" opens in U.S. theaters on December 16, 2016.
Rogue One: A Star Wars Story hits US theaters on December 16.