VOTD: Bill Murray Returns To 'Saturday Night Live' With World Series Champion Chicago Cubs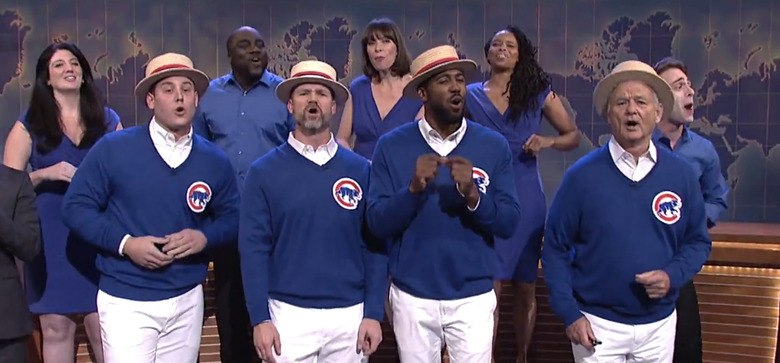 Ever since the Chicago Cubs won the World Series this past week, all around me in the Midwest, people just seem a little more upbeat and happy, even with the wholly depressing election still kicking around for a couple more days. The parade and rally just a hop, skip and a jump away from me over in Chicago brought in an estimated 5 million people, which is almost double the population of the entire city itself, and it now ranks as the 7th largest gathering in human history.
This weekend the celebrations continued, but not just in Wrigleyville. The victory tour spread to New York City as lifelong Chicago Cubs fan Bill Murray decided to take some members of the team back to his old stomping grounds at Saturday Night Live to celebrate the victory on Weekend Update with a familiar ditty that the entire country probably knows at this point.
Watch Bill Murray and the Chicago Cubs on Saturday Night Live after the jump.
Anthony Rizzo, David Ross and Dexter Fowler appear with Bill Murray (who of course gets the loudest cheers from the crowd) to sing yet another rendition of "Go Cubs Go." The only thing that could have made it better is if Murray appears as Nick the Lounge Singer again. But at the very least, it was funny to see David Ross do his patented crotch bump with Colin Jost.
This is special not only because the Cubs won the World Series, but because Bill Murray usually doesn't pop up in regular SNL episodes. With the exception of hosting five times (the last time happened in 1999) and returning for the milestone anniversary celebration specials, Bill Murray usually doesn't make little cameos like other former cast members. The only cameos he has made happened in November of 1994 and in October of 2008, the latter being one of the Weekend Update election specials that aired on Thursday.
But when the baseball team that you've supported for literally your entire life wins their first World Series in 108 years, that's something special. Saturday Night Live has a tradition of bringing at least someone tied to the championship winning teams of various sports throughout their season, but seeing the Chicago Cubs there to do it along with him made it positively surreal.
If only Back to the Future Part II had pushed back their prediction by one year, this would be even more magical. But I guess being just one year off isn't bad. Also, don't forget that Parks and Recreation made this prediction a couple years ago in their final season.