Universal Orlando Looks To Reinvent The Waterpark With Volcano Bay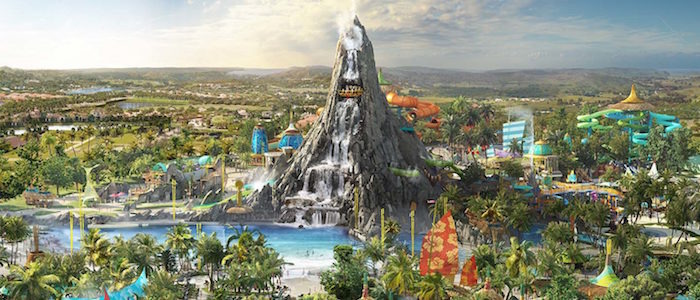 The Universal Studios theme parks built their reputation on allowing guests to "ride the movies" and that continues to be its main appeal. Only now, five-minute rides through your favorite films in the Universal catalog have given way to immersive experiences that allow you to wander through lands that transport you into fantastical worlds like J.K. Rowling's Wizarding World, the long-lost Skull Island, and, uh, Jimmy Fallon's Tonight Show.
That's why Universal's newest addition to its Florida resort is so fascinating. Volcano Bay is a departure from its sister parks (Universal Studios Florida and Islands of Adventure) in that it's a water park, but it's also a completely original concept that isn't based on any kind of licensed property. A new teaser video dwells on the chief selling point here: a relaxing experience build on some fairly astonishing technology.
Since Volcano Bay is still under construction, the video below doesn't feature much actual in-park footage. But it does tease some very interesting concepts and utilize a few very specific phrases that should raise the eyebrows of theme park fans.
NEWS: Unlock the power of TapuTapu at Universal's #VolcanoBay, opening early Summer 2017. Get complete details at https://t.co/2c7lUySgCT. pic.twitter.com/oo7W7O1Wcl

— Universal Orlando Resort (@UniversalORL) November 3, 2016
The theme of Volcano Bay is "tropical paradise," which is not the most original setting in the world for a water park (although it does look like quite lovely and could be a sight to behold if the final park looks like the digitally rendered one in the video). What is original are those "TapuTapu" bands everyone in the video is wearing, which should remind theme park aficionados of the Magic Bands Walt Disney World uses these days. But while the Magic Bands act as tickets and credit cards and store other useful information that is conveniently stored on your wrist, the TapuTapu tech seems focused on enhancing your Volcano Bay experience. Wave your arm in the right place and watch an environmental effect! Shades of the Wizarding World of Harry Potter, where guests can wave wands equipped with sensors in various areas and watch something cool happen.
However, the really intriguing aspect of TapuTapu is the suggestion that these wristbands will eliminate lines, reserving your place in a digital queue and letting you relax elsewhere while you wait your turn for a particular ride. While Disney's Fastpass and Universal's Express systems have helped reduce long waits in traditional theme parks, this feels like the next step forward for this technology.
And here's the kicker: the ad doesn't refer to Volcano Bay as a water park, but as Universal Orlando's third theme park. That's actually a pretty big distinction. Across town, the Walt Disney World resort boats four theme parks and two water parks, but it has never advertised itself as having six gates. Those water parks wee always add-ons, half-day experiences meant to entice visitors into staying an extra day or two. Volcano Bay being referred to as a proper sister park to Islands of Adventure and Universal Studios Florida feels like a boast – it will exist on the same level as the other parks. The fact that this video features a night scene with a family enjoying a meal is the quietest shout. This is worthy of an entire day, Universal is saying.
We'll see how things shake out when Volcano Bay opens its doors next summer.