Meet Neil Patrick Harris As Count Olaf In 'A Series Of Unfortunate Events' Teaser Trailer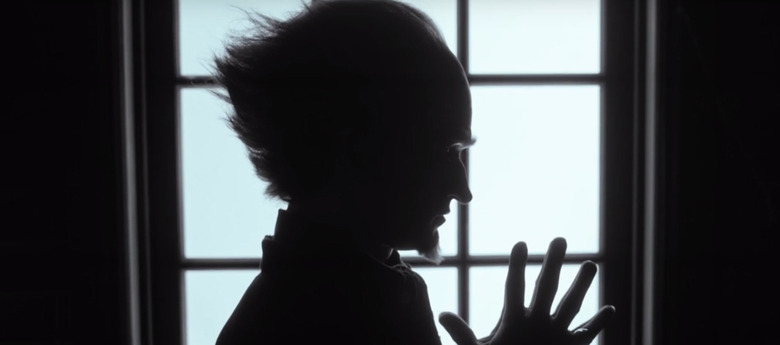 The popular book series Lemony Snicket's A Series of Unfortunate Events was already turned into a movie starring Jim Carrey as the dastardly Count Olaf, and it was about as perfect of a portrayal of the character as you could ask for. Unfortunately, the movie wasn't a big enough hit to warrant a sequel, so now the books are being adapted all over again, this time as a series on Netflix. Now the first A Series of Unfortunate Events trailer with some actual footage from the show has arrived.
This time, Lemony Snicket's A Series of Unfortunate Events puts How I Met Your Mother star and all around great guy Neil Patrick Harris in the role of Count Olaf, and we finally get to see him meet the Baudelaire children in this first teaser trailer.
A Series of Unfortunate Events Trailer
While Neil Patrick Harris looks outstanding as Count Olaf, I have to say that this footage of him in action makes me worry he's miscast. Maybe it's just because Jim Carrey had such an outstanding transformation that this pales in comparison, but Harris' voice alone makes this feel rather forced. He doesn't feel like the cartoonishly villainous character from the books, and I'm not sure he can pull this off. Maybe I'll be convinced when more footage shows up.
Honestly, though, even though this series appears to have a decent enough budget, I can't help but notice that this looks almost exactly like the film adaptation. That might just be because they're staying true to the artistic designs from the books, but you would think that they could change it up a bit so it felt a little fresher. But maybe fans will be just fine with how this turns out. We'll find out when all the episodes hit on January 13.
Based on the internationally best-selling series of books by Lemony Snicket (aka Daniel Handler) and starring Emmy and Tony Award winner Neil Patrick Harris, Lemony Snicket's A Series of Unfortunate Events recounts the tragic tale of the Baudelaire orphans — Violet, Klaus, and Sunny – whose evil guardian Count Olaf (Harris) will stop at nothing to get his hands on their inheritance. The siblings must outsmart Olaf at every turn, foiling his many devious plans and disguises, in order to discover clues to their parents' mysterious death. The eight-episode series is a Netflix original production, executive produced by Emmy Award winner Barry Sonnenfeld and Daniel Handler, and also stars Patrick Warburton (Lemony Snicket), Joan Cusack (Justice Strauss), Malina Weissman (Violet Baudelaire) and Louis Hynes (Klaus Baudelaire).