'Office Christmas Party' Trailer: All Of Chicago Is Invited To This Insane Holiday Shindig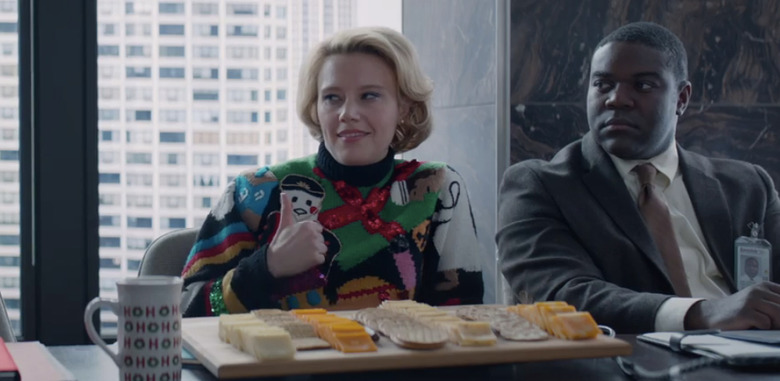 Today the city of Chicago really does have something to celebrate with the Cubs winning the World Series last night for the first time in 108 years. However, trying to top the celebrations in the Windy City this winter will be the holiday comedy Office Christmas Party.
A new Office Christmas Party trailer has just arrived, and it provides many more details about the story at the center of the comedy. Basically, Jennifer Aniston is a top executive for some kind of business who has come to shut down a failing firm in downtown Chicago unless they land a huge account that has landed in their lap. And the best way to do that is apparently to throw the most insane Christmas rager ever.
This movie is chock full of comedic talent in nearly every frame. Beyond the primary cast, which already includes some comedic heavy hitters like Jason Bateman, T.J. Miller, Kate McKinnon and Olivia Munn, you'll also spot appearances by Jillian Bell, Vanessa Bayer and Fortune Feimster. Also along for the ride will be Rob Corddry, Randall Park, Courtney B. Vance, Sam Richardson and Jamie Chung.
This definitely has the vibe of The Night Before mixed with Office Space, and it'll certainly be a nice departure from the traditionally more family-friendly holiday movies that hit theaters around this time. You can only be told to love your family and have a touchy feely group hug so many times before you just want to toss back some shots.
My only concern is that some of the scenes appear to venture away from the party, and I'm worried it might just get a little too outlandish. That concern is only increased by the fact that this comedy is directed by Josh Gordon and Will Speck, the directors of Blades of Glory and The Switch. The former comedy was just a little too silly and similar to Talladega Nights to stand on its own while The Switch stumbled through its inherently twisted story. But maybe Office Christmas Party is just what they needed to deliver an outstanding comedy.
In Office Christmas Party, when the CEO (Jennifer Aniston) tries to close her hard-partying brother's branch, he (T.J. Miller) and his Chief Technical Officer (Jason Bateman) must rally their co-workers and host an epic office Christmas party in an effort to impress a potential client and close a sale that will save their jobs.
Office Christmas Party hits theaters on December 9.