'Sing' Trailer: Any Animal Can Be A Rock Star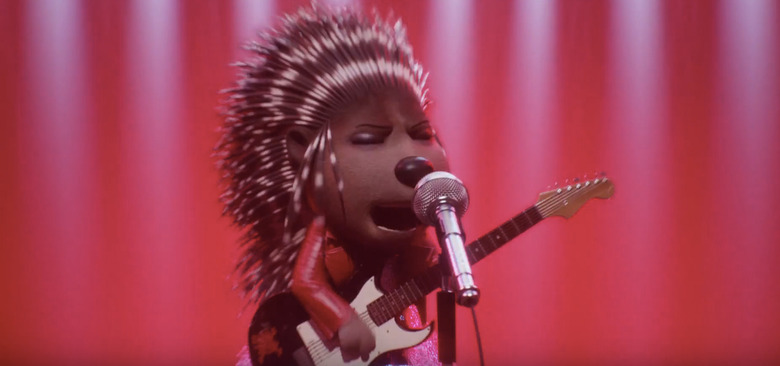 This weekend brings the animated musical Trolls to theaters, which means there's no better time for Universal and Illumination Entertainment to push their own music-infused animated comedy, Sing.
An all-new Sing trailer has arrived, and as someone who has been skeptical about how this movie would turn out, I have to say that this most recent tease of the movie actually shows off some more enticing character and story details, showing that this is much more than a showcase of some famous pop tunes. It's a little weird that Eminem's "Sing for the Moment," which samples Aerosmith's "Dream On," is used to market a kids movies, but whatever works, I guess.
Watch the new Sing trailer after the jump.
Matthew McConaughey plays a koala putting on one last show, and Reese Witherspoon, Seth MacFarlane, Scarlett Johansson, Taron Egerton and Tori Kelly are some of the animals looking to follow their dreams and make it as rock stars. This trailer shows more of the personal lives of Scarlett Johansson's porcupine and Tori Kelly's elephant characters. I don't know why, but these details were much more compelling to me than what we learned about Taron Egerton's gorilla and Reese Witherspoon's pig characters in the earlier trailers.
Of course, music is still going to be a central part of Sing, especially with at least 85 hit songs being included in the movie. Hopefully some of the songs will be included in a more clever way than just being part of the singing contest.
Garth Jennings (Son of Rambow, The Hitchhiker's Guide to the Galaxy) directs Sing, which arrives in theaters on December 21, just in time for Christmas.
Set in a world like ours but entirely inhabited by animals, Sing stars Buster Moon (Academy Award® winner Matthew McConaughey), a dapper Koala who presides over a once-grand theater that has fallen on hard times. Buster is an eternal optimist—okay, maybe a bit of a scoundrel—who loves his theater above all and will do anything to preserve it. Now facing the crumbling of his life's ambition, he has one final chance to restore his fading jewel to its former glory by producing the world's greatest singing competition.
Five lead contestants emerge: A mouse (Seth MacFarlane) who croons as smoothly as he cons, a timid teenage elephant (Tori Kelly) with an enormous case of stage fright, an overtaxed mother (Academy Award® winner Reese Witherspoon) run ragged tending a litter of 25 piglets, a young gangster gorilla (Taron Egerton) looking to break free of his family's felonies, and a punk-rock porcupine (Scarlett Johansson) struggling to shed her arrogant boyfriend and go solo. Each animal arrives under Buster's marquee believing that this is their shot to change the course of their life.