New 'Moana' Clips Spotlight A Smaug-Like Crab And A Wise Old Grandma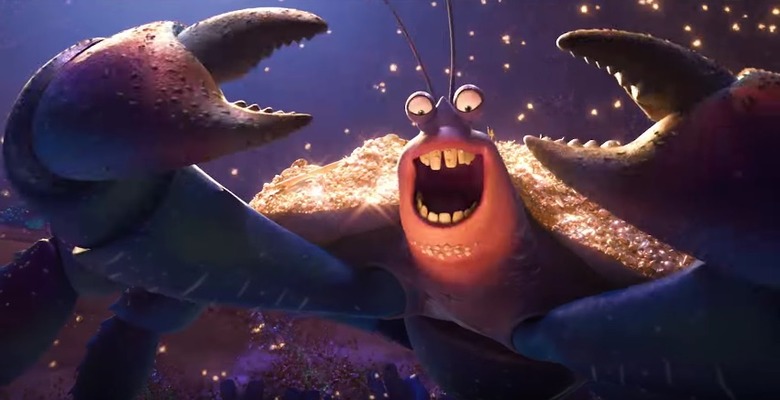 Disney Animation's Moana has shown us quite a bit of Maui (Dwayne Johnson) and Moana herself (Auli'i Cravalho) at this point, but the latest marketing materials shine a light on two of the supporting players. One is Gramma Tala (Rachel House), one of the few in the village who encourages Moana's dreams of exploration. The other is Tamatoa (Jemaine Clement), a gigantic crab who loves shiny things. Think Smaug, but, you know, as a goofy crab instead of a terrifying dragon. Watch two Moana clips below. 
Moana Clips
The first Moana clip has Gramma Tala practicing a bit of reverse psychology on her granddaughter. Tala is voiced by Rachel House, most recently seen as the overzealous child welfare services officer Paula in Taika Waititi's Hunt for the Wilderpeople. During a Moana footage presentation last month, we learned that is Tala who reveals the truth to Moana about their people's history: that they were once explorers who conquered the Pacific.
The second Moana clip isn't really a clip so much as a featurette with a really brief snippet of footage. But it features Jemaine Clement (of Flight of the Conchords and What We Do in the Shadows fame) being his usual goofy self, and maybe identifying with his greedy Moana character a little too deeply.
Moana opens November 23.
Three thousand years ago, the greatest sailors in the world voyaged across the vast Pacific, discovering the many islands of Oceania. But then, for a millennium, their voyages stopped – and no one knows exactly why. From Walt Disney Animation Studios comes "Moana," a sweeping, CG-animated feature film about an adventurous teenager who sails out on a daring mission to save her people. During her journey, Moana (voice of Auli'i Cravalho) meets the mighty demigod Maui (voice of Dwayne Johnson), who guides her in her quest to become a master wayfinder. Together, they sail across the open ocean on an action-packed voyage, encountering enormous monsters and impossible odds, and along the way, Moana fulfills the ancient quest of her ancestors and discovers the one thing she's always sought: her own identity.