'xXx: Return Of Xander Cage' Trailer: The Good, The Extreme, And The Completely Insane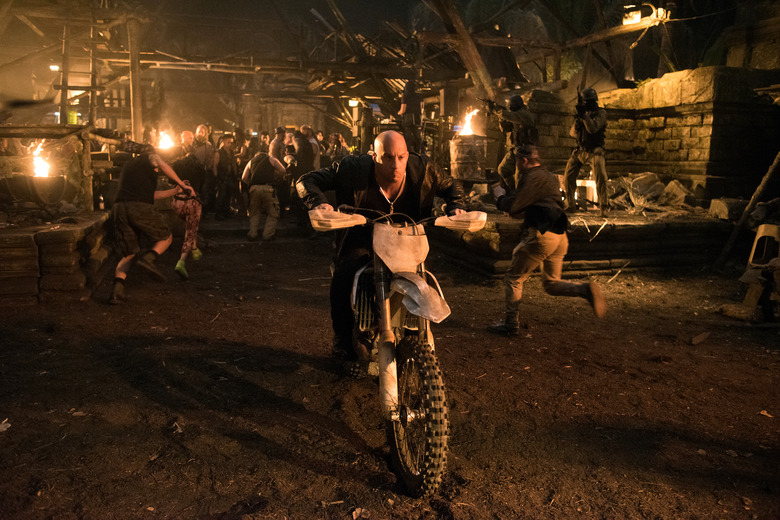 "Kick some ass, get the girl, try to look dope while you're doing it." That's the advice Augustus Gibbons (Samuel L. Jackson) gives spy / extreme sports enthusiast (Vin Diesel) in the new trailer for xXx: Return of Xander Cage, and it's really the appeal of this entire movie in a nutshell. Sometimes, you just want to watch a movie about a guy who kicks some ass, gets the girl, and tries to look dope while he's doing it. Whether he succeeds at looking dope, of course, is the question, and that's up for you to judge. Watch the xXx 3 trailer below.
xXx 3 Trailer
xXx: Return of Xander Cage looks phenomenally dumb, with stunts that make Diesel's Fast and the Furious setpieces look like gritty realism. (And Fast and the Furious seems like the most relevant comparison here, since it's clear this film is taking cues from Diesel's other, more successful action franchise.) This is a movie where Diesel motorcycles across the ocean, skis through a jungle, and skateboards across the side of a moving bus. But it's all done with a gleeful self-awareness that makes this movie look entertaining, rather than exhausting. At the very least, no one could possibly accuse xXx: Return of Xander Cage of taking itself too seriously.
Heck, xXx: Return of Xander Cage might end up being better than both its predecessors... which to be fair isn't really saying much. The original was a surprisingly tedious affair that felt focus-grouped to within an inch of its life, and the sequel couldn't even get Vin Diesel back. (He was replaced by Ice Cube.) This one features a pretty interesting cast that includes Nina Dobrev, Ruby Rose, Donnie Yen, Rory McCann, Tony Jaa, Toni Collette, and Deepika Padukone. D.J. Caruso (Disturbia) directed.
xXx: Return of Xander Cage smashes into theaters January 20, 2017.