New Details On Luke Skywalker's 'Star Wars: Episode 8' Costume Revealed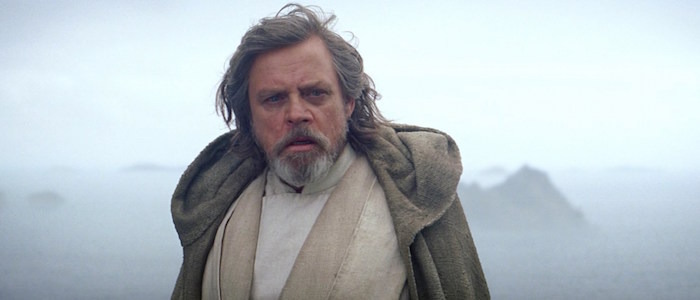 Earlier this year, a description of the outfit Luke Skywalker would wear throughout Star Wars: Episode 8 arrived online, revealing that the exiled Jedi master has at least one other set of clothing in his wardrobe besides that white and grey get-up seen at the end of Star Wars: The Force Awakens. And now, an artist has collaborated with the site that broke the original story to create an accurate depiction of what Luke could like in the final movie.
Potential spoilers (albeit minor ones) lie ahead.
The original report came our way via the typically reliable Making Star Wars, who reported that Luke will spend the next chapter of the saga in a darker outfit that is more in line with his Return of the Jedi wardrobe:
Luke Skywalker wears a darker costume compared to what we saw in The Force Awakens. This costume is more evocative of his Return of the Jedi clothes in cut and color. His undertunic reminds me of Count Dooku but his very dark grey cape drops over the top of his shoulders and chest like a shawl. This leaves his right arm free but half of his chest covered by the cape. It's almost similar to the asymmetrical cut of Captain Phasma's cape, but more like a shawl in the way it cover his chest.
And many artists took that description and ran with it, embellishing the details. Wanting to ensure that their description remained accurate to what they know about the production, Making Star Wars recruited the artist Lumberjack Nick to create a drawing that would provide the official unofficial version of what Luke's new robes look like. You'll have to head over to their site to take a look.
The plot of Episode 8 remains under lock and key, but we do know that much of Luke's screen time will be focused on him training Rey amidst the ancient ruins on Ahch-To, the planet glimpsed in the final moments of The Force Awakens. That takes us to a new and very interesting tidbit from Making Star Wars about his new costume:
In the film, the costume is apparently just filthy most of the time. Skywalker is more like Yoda on Dagobah in terms of style than the white regal costume he wore to meet Rey at the end of Star Wars: The Force Awakens. This costume gets a lot dirtier in the film than the cartoon depiction by Lumberjack Nick. You will also notice there isn't really any belt or anything for his lightsaber. It makes us wonder if what our friends in Ireland saw was actually a saber or not during the filming, as there seems to be some contention as to if Luke ever actually uses one in this film.
Naturally, all of this should be taken with a grain of salt until we see or hear something official, but I love this. Luke has been living on an island for years, of course he hasn't been taking care of himself and would look more like an old hermit than a put-together warrior monk. Especially interesting is the note about Luke not actually using a lightsaber in the film. Would a Jedi of Luke's power even need one? And more importantly, would he even want to handle a Jedi weapon again after watching Ben Solo, his own student, betray him and murder so many innocents? The imagination reels, especially since writer/director Rian Johnson is apparently taking Star Wars in some pretty extreme directions.
Star Wars: Episode 8 is set to open on December 15, 2017.