20th Century Women Trailer: Annette Bening Tries To Raise A Good Man In 1970s California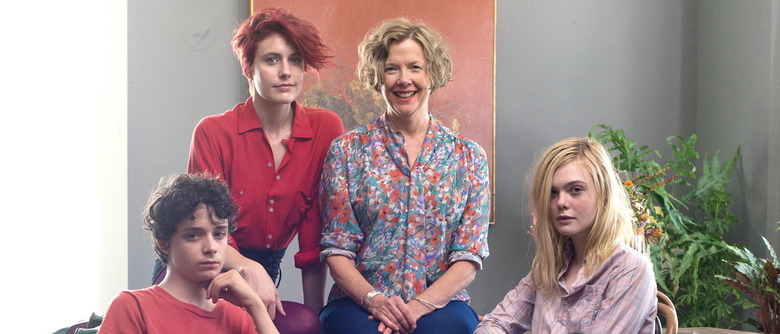 Is there ever really a right time for a teenage boy to come of age? Put aside the nostalgia for the past and the optimism for the future for a second, and you'll find that each era provides its own ups and downs, some universal and some unique. Still, the tail end of the Carter era is looking like a particular challenge for Dorothea (Annette Bening), the single mother at the center of 20th Century Women. "When you were born, I told you life was very big and unknown," she says in a wistful monologue. "But now it's 1979, and nothing means anything."
The new movie from Mike Mills (Beginners) chronicles the lives of a ramshackle sort of family. Dorothea and her son Jamie (Lucas Jade Zumann) runs a boarding house whose tenants include artist Abbie (Greta Gerwig) and carpenter William (Billy Crudup). There's also Julie (Elle Fanning), the next door neighbor who's over so often she might as well live there, too. When Dorothea reaches out for help raising Jamie, they all come together to embark on this messy project. Watch the 20th Century Women trailer below. 
20th Century Women Trailer
We counted 20th Century Women among the films we're most looking forward to this fall, and early reviews have borne out our optimism. Consequence of Sound gave it an A, calling it "the kind of wonder that only comes along a few times a year." THR raved that "the movie belongs to Bening," who "gives radiant life to all [Dorothea's] complexities," while Indiewire had particular praise for Bening and Gerwig, writing that "neither has ever been better." It's maybe not the movie for audiences who absolutely insist on a plot — The Guardian, in a 4/5 review, calls it "a film about nothing specific" — but if you're willing to just give yourself over to the experience, 20th Century Women looks like a warmhearted dramedy.
20th Century Women is in theaters December 25.
Mike Mills's texturally and behaviorally rich new comedy seems to keep redefining itself as it goes along, creating a moving group portrait of particular people in a particular place (Santa Barbara) at a particular moment in the 20th century (1979), one lovingly attended detail at a time. The great Annette Bening, in one of her very best performances, is Dorothea, a single mother raising her teenage son, Jamie (Lucas Jade Zumann), in a sprawling bohemian house, which is shared by an itinerant carpenter (Billy Crudup) and a punk artist with a Bowie haircut (Greta Gerwig) and frequented by Jamie's rebellious friend Julie (Elle Fanning). 20th Century Women is warm, funny, and a work of passionate artistry. An A24 release.