'Stranger Things': Watch A Newscast About Barb's Disappearance, Funko POP! Toys Announced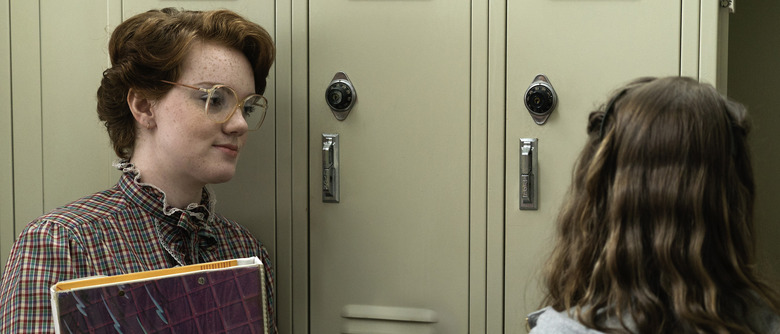 We'll find out next year what, exactly, the Stranger Things creators mean when they promise "justice for Barb," but until then, fans can take comfort in knowing Nancy isn't the only one who cared about her. Brenda Wood, a real-life news anchor who made a cameo in the series premiere, has filed a report wondering what, exactly, happened to Barb... and also calling for help capturing the "vagrant juvenile" who made off with an "unprecedented" number of Eggo waffles.
And if you're still unhappy with how the whole Barb storyline went down, now's your chance to try and act out your own version at home. Funko has just announced a line of Stranger Things POP! Vinyl figures, which you can pre-order now. Watch the Stranger Things newscast and check out the Stranger Things Funko toys below. 
11Alive (home to the real-life Brenda Wood) shared the Stranger Things newscast via Netflix. (Spoilers for season one follow, of course.)
The news report is presumably meant as an affectionate homage to Stranger Things' unlikely breakout character, but it also reveals just how little attention was paid to Barb during the show itself. The paltry facts scraped together here — Barb is "the kind of girl who notices if you're wearing a new bra," and "loyal to a fault" when it comes to Nancy — are really all the show ever told us about the character. And poor Barb can't even get a newscast to herself without a shoutout to that other, more beloved missing kid, Will Byers.
On a side note, it looks like the broadcast is originally interrupted by bursts of static. Just plain poor reception, or dispatches from the Upside Down? Hmm...
Anyway, while Barb may not get much love on the show, she's received an outpouring of love from fans at home. So much so, that over the summer Funko shared designs for a potential Barb POP! Vinyl figure. Now that toy has become a reality, along with figures for Eleven, Mike, Dustin, Lucas, Will, Upside Down Will, and the Demogorgon.
Eleven and the Demogorgon come in regular and limited edition chase variant forms. Upside Down Will will be a Think Geek exclusive, while Eleven Underwater will be a Hot Topic exclusive. All the other toys should be available wherever Funko POP! Vinyls are sold. Each will cost around $10 and will hit shelves in early 2017 — just in time for you to act out all your Stranger Things fanfiction storylines before season two arrives to upend everything you thought you knew.