Jake Johnson Won't Crack Wise In 'Jurassic World 2'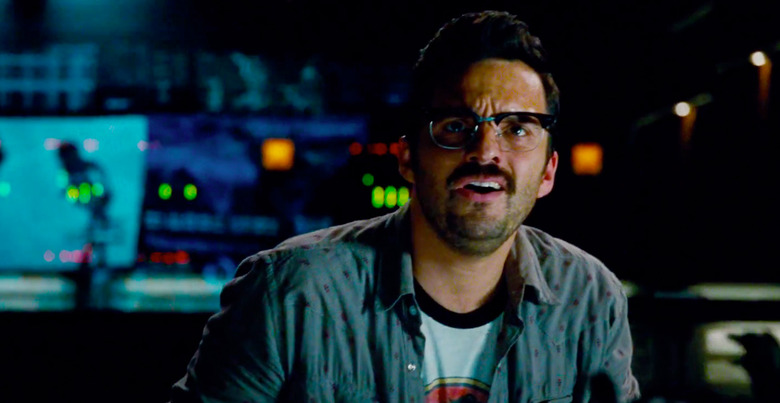 Even though production on Jurassic World 2 is slated to begin early next year in order to meet the 2018 summer release date, we still know very little about the sequel, and that includes who will be among the cast. So far the only cast members confirmed for Jurassic World 2 (or Jurassic Park 5 depending on how you want to talk about the franchise) are Chris Pratt and Bryce Dallas Howard returning as Owen Grady and Claire Dearing respectively. But now we have word on another returning cast member from Jurassic World, or rather lack thereof.
New Girl star Jake Johnson has revealed that he won't be coming back for Jurassic World 2, which will leave most of the joke cracking in the hands of Chris Pratt. Find out more below.
A fan asked Jake Johnson on Twitter whether or not his tech specialist character Lowery would be returning for Jurassic World 2, and here's what he had to say:
Even though we don't know much about the story for Jurassic World 2, we can safely assume that it won't focus on another functioning theme park full of dinosaurs, which means Lowery probably isn't really needed this time around. Logically, I can't imagine a character like Lowery would feel the need to get involved with dinosaurs again after the tragedy he had to deal with at Jurassic World.
However, not having Jake Johnson in Jurassic World 2 is a bit of a bummer. His character certainly brought some comedic relief, and he actually served as a sort of conduit for the fans of the original franchise as a character who had an immense amount of respect for the original park and also made plenty of sarcastic comments about the poor decisions being made while dealing with the new park spiraling out of control.
There probably won't be many other characters from Jurassic World returning for the sequel. In most cases, either they were killed or bringing them back just wouldn't make sense. The one character that could have a key role in the future though could be B.D. Wong as Dr. Henry Wu. He's been driven a little mad by his work as a scientist, becoming much more of a god-playing villain, and if the sequel will deal with open source dinosaur breeding, he would be a good resource for any company to have.
As the start of production on the sequel from director J.A. Bayona gets closer, hopefully we'll be hearing more details about Jurassic World 2 very soon. It would be nice to at least have some semblance of a plot for the sequel that is said to be suspenseful and scary.
Jurassic World 2 arrives on June 22, 2018.