POTD: 'Thor: Ragnarok' Gives The God Of Thunder A Much Simpler Costume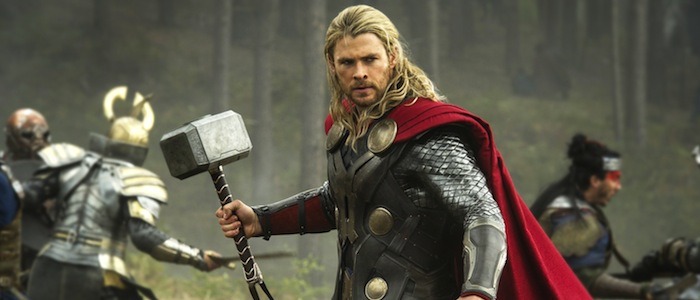 Yesterday was the last day of production on Thor: Ragnarok, and now begins over a year of post-production on the Marvel sequel directed by Taika Waititi (What We Do in the Shadows, Hunt for the Wilderpeople). A surprise video from the set of the movie down in Australia offered a glimpse of some interesting tidbits, as well as confirmation of a Planet Hulk character being involved. The set video didn't show Chris Hemsworth in his full Thor garb, but the actor has followed up with a post on Instagram that reveals a costume that is much more simple than his previous wardrobe.
Check out the Thor Ragnarok set photo after the jump.
Here's what Chris Hemsworth posted to Instagram last night:
Standing with those who are fighting to protect their sacred land and water. #nodapl #waterislife #mniwiconi @taikawaititi I would also like to take this opportunity to raise something that has been bothering me for sometime. Last New Year's Eve I was at a "Lone Ranger" themed party where some of us, myself included, wore the traditional dress of First Nations people. I was stupidly unaware of the offence this may have caused and the sensitivity around this issue. I sincerely and unreservedly apologise to all First Nations people for this thoughtless action. I now appreciate that there is a great need for a deeper understanding of the complex and extensive issues facing indigenous communities. I hope that in highlighting my own ignorance I can help in some small way.
The photo is meant to show support for those protesting at the Standing Rock Indian Reservation in North Dakota who are taking a stand against the Dakota Access Pipeline that will damage the reservation's land. The protest escalated to a standoff between protesters and police, and law enforcement moved in on them and arrested over 140 people involved. Appearing in a previously unseen costume from Thor: Ragnarok is a good way to bring some attention to this issue, because this photo will get spread all over the place. After all, you might not have seen this photo or heard about this issue otherwise.
Now let's get to the nerdy side of this post, which is taking a look at how this outfit for Thor is much different. First, it should be noted that Thor still has his long hair in this image, so whatever was being shot on this last day of production comes before he gets the haircut that we saw in the sizzle reel from Comic-Con and the set photos posted by Mark Ruffalo.
In addition, Thor's wardrobe is much less flashy and far simpler. Here's what Thor looked like in Thor, The Avengers and Thor: The Dark World, from left to right:
Thor also went sleeveless briefly in Thor: The Dark World, but it's usually when he's not in battle that he ditches the armored sleeves. But I'm wondering if we'll see Thor with any armored arms at all since the rest of his wardrobe doesn't have nearly has much armor on it. Even his wrist guards are simplified.
We don't know much about the story for Thor: Ragnarok yet, so we don't know if there's a reason for this change in Thor's appearance, or why he gets a short hairtcut at some point in the movie. Since the sequel doesn't arrive until November 3, 2017, we might be waiting awhile before we see any actual footage from the movie. Stay tuned for more information as it becomes available.