Kevin Hart Will Play Santa Claus In Disney's 'Dashing Through The Snow' Christmas Comedy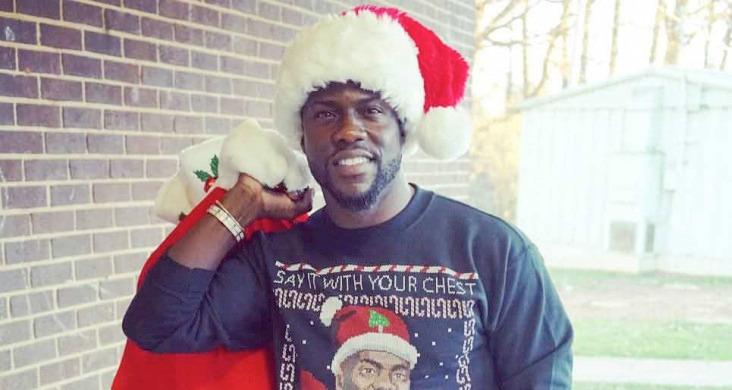 Halloween is still a few days away, and despite what most retails stores think, it's still too early to start thinking about Christmas. But that's not stopping Disney from getting a new holiday comedy prepared for next year, and it's going to subvert the expectations of how people expect to see Santa Claus on film in more ways than one.
The movie is called Dashing Through the Snow, and it will feature superstar comedian and Central Intelligence co-star Kevin Hart playing Santa Claus.
That noise you hear is Megyn Kelly and her colleagues at Fox News screaming into the void about political correctness or a War on Christmas or whatever they're babbling about today. The news anchor who once said "Santa Claus is just white" came to play off her statement as a joke when it was clearly a real response to an article calling out a lack of Santa Claus diversity in pop culture. But controversy led her to apologize while also chastising those who didn't realize she was "joking."
Anyway, it'll probably be hard for her to get upset about this movie since The Hollywood Reporter reveals it will follow a story that sees the one true Santa Claus getting a workaholic father to believe in the magic of Christmas to repair the strained relationship he has with his son. That sounds like your typical, touching holiday tale, and the comedic is said to be in the same vein as Liar Liar or Elf.
Many non-white families have long had the explanation to their kids that Santa Claus magically turns into however the children envision him so that a Santa Claus of a different race was never viewed as not being the real deal. There haven't been any major big screen releases where the "real" Santa Claus is played by a black actor, and part of me wonders if the movie will give a sort of explanation about this change in Santa Claus' traditional appearance as a white man. But since that same explanation was never granted to people who weren't white, I really hope they don't acknowledge it at all and let things proceed as normal.
At the same time, if we disregard skin color, Kevin Hart doesn't exactly have the traditional Santa Claus physique. Will visual effects or make-up/costume effects be used to turn him into Santa Claus or will this be a different take on the holiday symbol?
The idea for Dashing Through the Snow comes from Con-Air writer Scott Rosenberg of all people, and it's being given a new draft by The Fundamentals of Caring writer and director Rob Burnett. Also, Will Packer (Ride Along) and John Jacobs (Ted) will be producing, but no director has been attached to the project yet. The studio is beginning that search imminently.
Kevin Hart is one of the most bankable comedy stars working today, and he has a broad appeal across a variety of demographics. Putting him a holiday comedy just makes sense after all the success he's had with comedies alongside Will Ferrell, Dwayne Johnson, and Ice Cube, not to mention his recent stand-up concert film.