'Star Trek: Discovery' Still Boldly Going As New Character Details Arrive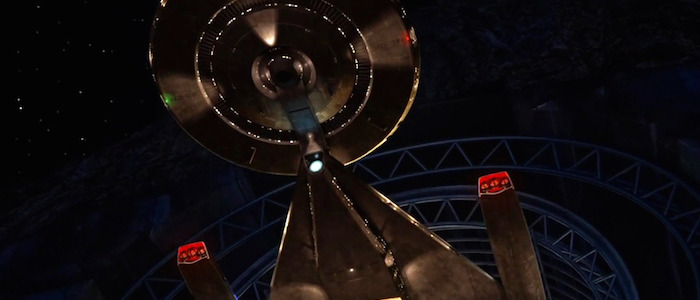 Yesterday, Star Trek: Discovery encountered its biggest speed bump yet when Bryan Fuller stepped down as showrunner, leaving Gretchen Berg and Aaron Harberts in command of the bridge. Although Fuller will still be involved, this felt like a low blow for Star Trek fans. After all, much of the appeal of the new series seemed from Fuller, a Trek veteran and the creator beloved shows like Hannibal and Pushing Daisies, being the one to steer this particular ship. Berg and Harberts are in an unfortunate position – they may have Fuller's blessing, but one of the most high-strung fan bases in existence is going to watch and judge their every decision.
But while we could continue to dwell on the negative, we could also take this opportunity to pick apart the new details about the show that have emerged in the wake of Fuller giving up the captain's chair. Hit the jump to learn about the Star Trek Discovery characters.
Although Variety initially broke the news about Fuller leaving Star Trek: Discovery, The Hollywood Reporter added their two cents on the situation, which included this tidbit about the series itself:
Sources tell THR that the rest of the cast also will feature an openly gay actor as one of the male leads (which Fuller confirmed), a female admiral, a male Klingon captain, a male admiral, a male adviser and a British male doctor.
These characters will back up the show's lead character, a female lieutenant commander who has yet to be cast.
There are a few things to take away from this. First, Fuller had made it very clear since he joined the show that there would be an openly gay actor playing an openly gay character in the series, a decision that would make Star Trek history. While the Kelvin Timeline version of Sulu was revealed to be married to a man in Star Trek Beyond, this character will be the first original gay Star Trek character. For a series that built its foundation on progressive-for-its-time politics and a diverse-for-its-time crew, this is the next step (and it's long overdue).
But let's talk about that male Klingon captain for a second. Star Trek: Discovery is set a decade before the events of the original series, a time when the Federation and the Klingon Empire were not friendly, to say the least. In fact, relations between both groups would remain tense up through the events of Star Trek VI: The Undiscovered Country, when the Klingons and Starfleet found common ground and make peace. Their friendship would prove fragile throughout the Next Generation era, with their relationship completely breaking down during the events of Star Trek: Deep Space Nine.
In short, a Klingon captain suggests that the fan speculation about the USS Discovery being an experimental voyage that combines Klingon and Federation crew may have some truth to it, which would also explain why the ship itself looks like a hybrid and Starfleet and Klingon design aesthetics.
Or this could mean that a Klingon captain is just a major player on the show and not a member of the Discovery's crew. We'll surely know more as the series finally reveals its cast and that will have to be soon – production is set to begin filming soon. The series itself will premiere next May.