'Billy Lynn's Long Halftime Walk' Trailer Pitches A War Drama Unlike Any You've Seen Before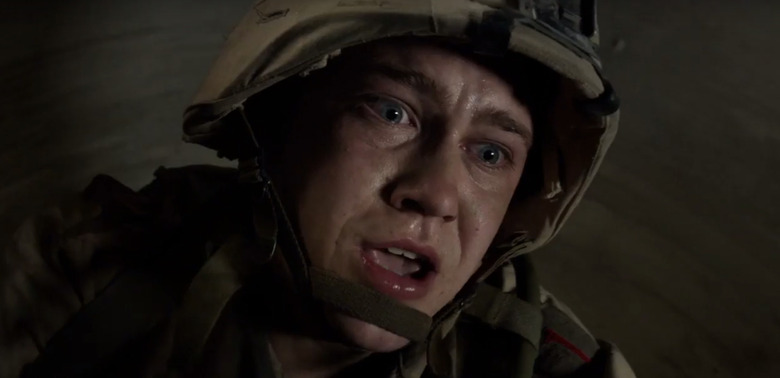 With just a few weeks until Billy Lynn's Long Halftime Walk starts hitting theaters, one final trailer has arrived, and it's full of quotes from critics who are primarily talking about the high frame rate that director Ang Lee used to shoot the war drama. Based on the book of the same name by Ben Fountain, the story follows a soldier who comes home from the war in Iraq on a temporary victory tour. Through flashbacks, we learn about what he's endured on the battlefield as he and the rest of his squad are honored over the Thanksgiving break on the holiday's big football game.
Watch the Billy Lynn's Long Halftime Walk trailer after the jump.
Even though there are quotes in this trailer calling the film "revolutionary" and a "groundbreaking masterpiece," most of the reviews from the premiere at the New York Film Festival thought the 120 FPS frame rate was just too much to endure, ruining the movie going experience for many.
But even outside of the complaints about the high frame rate aesthetic, reviews mostly pegged this as a run-of-the-mill war drama, though there are some outstanding performances coming from the lead Joe Alwyn and his co-stars Kristen Stewart, Steve Martin, and Vin Diesel.
This is surely one of those movies you need to see for yourself, especially if you plan on seeing it in the intended high frame rate. Even though there will only be two theaters in the United States equipped to show the movie exactly as Ang Lee intended, there will still be plenty of locations able to show it in HFR, just like The Hobbit trilogy when Peter Jackson show it at 48 FPS.
Director Ang Lee brings his extraordinary vision to Billy Lynn's Long Halftime Walk, based on the widely-acclaimed, bestselling novel. The film is told from the point of view of 19-year-old private Billy Lynn (newcomer Joe Alwyn) who, along with his fellow soldiers in Bravo Squad, becomes a hero after a harrowing Iraq battle and is brought home temporarily for a victory tour. Through flashbacks, culminating at the spectacular halftime show of the Thanksgiving Day football game, the film reveals what really happened to the squad – contrasting the realities of the war with America's perceptions. The film also stars Kristen Stewart, Chris Tucker, Garrett Hedlund, with Vin Diesel, and Steve Martin. Lee used new technology, shooting at an ultra-high frame rate for the first time in film history, to create an immersive digital experience helping him dramatize war in a way never seen before.
Billy Lynn's Long Halftime Walk opens on November 11 in limited release and goes wide on November 18.