'Split' Trailer: James McAvoy Has 23 Personalities And A Totally Normal Guy Ain't One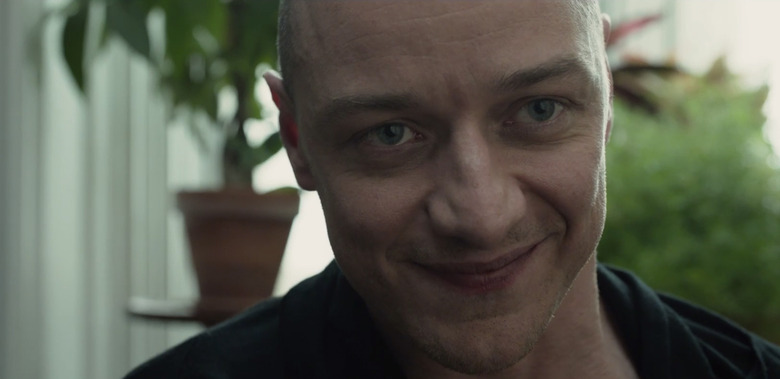 Now that M. Night Shyamalan has crafted a relationship with the horror hit machine that is Blumhouse Productions, he appears to be back in a big way. The Visit was a satisfying, suspenseful thriller last year, and now the director of The Sixth Sense is back with another unsettling entry to his filmography.
Split follows James McAvoy as Kevin, a man with dissociative identity disorder giving him no less than 23 different personalities. This creates nothing short of a perplexing nightmare for three girls (Anya Taylor-Joy, Jessica Sula and Haley Lu Richardson) who are kidnapped and held prisoner by Kevin for something presumably sinister. A new Split trailer shows off more of some of the other personalities we'll see James McAvoy inhabit in the thriller. It's not quite as stirring as the first trailer, but it does give us a better idea of how much more dangerous Kevin can become.
Our own Jacob Hall was able to catch Split at Fantastic Fest earlier this year, and he had this to say in his review:
"Shyamalan's defining traits, both positive and not, are on display: his occasionally wooden dialogue, scenes where characters have quiet, measured conversations that avoid talking about what they should be talking about, moments of genuine dread, a surprising amount of (effective!) comedy, and yes, an ending that will get a lot of people talking."
Sounds like pretty much what we've come to expect from M. Night Shyamalan, and since this one comes out early next year, there won't be much else interesting to grab our attention, so this is one I will absolutely check out. If you want to see the first trailer, it's available for you to check out right here.
While the mental divisions of those with dissociative identity disorder have long fascinated and eluded science, it is believed that some can also manifest unique physical attributes for each personality, a cognitive and physiological prism within a single being.
Though Kevin (James McAvoy) has evidenced 23 personalities to his trusted psychiatrist, Dr. Fletcher (Betty Buckley), there remains one still submerged who is set to materialize and dominate all the others. Compelled to abduct three teenage girls led by the willful, observant Casey (Anya Taylor-Joy), Kevin reaches a war for survival among all of those contained within him—as well as everyone around him—as the walls between his compartments shatter apart.
Split hits theaters early next year on January 20, 2017.