New 'Assassin's Creed' Featurette Shows Off Practical Stunts And Ancient Cities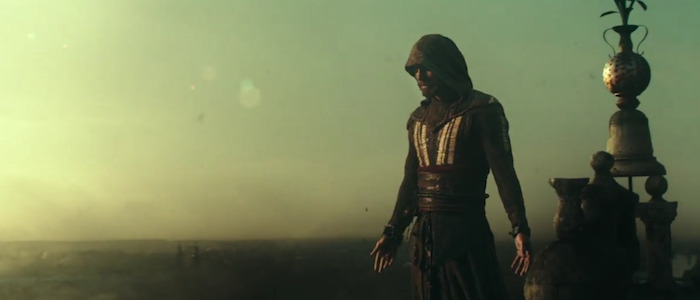 We're two months away from the release of Assassin's Creed, the latest film that everyone is hoping will finally break the video game movie adaptation curse. A new featurette for the film has arrived, showcasing the film's focus on practical effects and live stunts and Michael Fassbender stunt doubles doing parkour across ancient cities.
This is actually the second Assassin's Creed featurette to be built around the film's in-camera stunts and effects. The first one, which we wrote about a few months ago, focused on the filming of a 125-foot "leap of faith," a recreation of the games series' most iconic gameplay feature. This new video is more general, featuring (the never-not-uncomfortable-in-interviews) Fassbender and director Justin Kurzel talking about their desire embrace real stunts over digital effects. This is hampered slightly by the newest trailer being candy-coated in CGI gloss, but hey, this featurette does feature a stunt person leaping through the air and landing on an outstretched wire, so kudos to all involved.
Assassin's Creed is the big wild card of the fall movie season, the big studio release that I honestly don't even know how to talk about at this point. On one level, Fassbender and director Kurzel teaming up for a science fiction adventure following their very good Macbeth is a reason to get excited. But then you remember that this video game adaptation, a world littered with the corpses of great ideas that were poorly and often lazily executed. But wait! The Assassin's Creed video game series is truly weird and fascinating and filled with cinematic potential! But stop! The Assassin's Creed video game series is split fifty-fifty amongst strong games worth playing and lackluster entries that sap the spirit in record time! I feel like this also applies to the film's trailers, since I dug the first one enough to do a full-fledged trailer breakdown and last week's trailer filled my stomach with dread. So: insert a shrugging emoticon here or something. I don't know, guys.
Assassin's Creed opens on December 21, 2016. Here's the synopsis:
Through a revolutionary technology that unlocks his genetic memories, Callum Lynch (Michael Fassbender) experiences the adventures of his ancestor, Aguilar, in 15th Century Spain. Callum discovers he is descended from a mysterious secret society, the Assassins, and amasses incredible knowledge and skills to take on the oppressive and powerful Templar organization in the present day.