New 'Fantastic Beasts And Where To Find Them' TV Spot Promises Magical Monsters, But Not Necessarily Their Location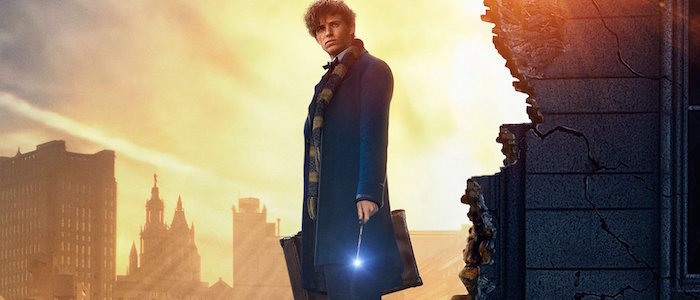 I need Fantastic Beasts and Where to Find Them to be a good movie. I need it to be a good movie because I adore J.K. Rowling's Wizarding World and would love to see more films explore the fringes of this beautifully crafted and meticulously detailed fantasy universe. I also need it to be a good movie because Warner Bros. has pledged to make five of these things and I'd much rather look forward to sequels to a movie I like than dread a franchise built around a dud.
And so far, I've liked what I've seen from the film, which finds Rowling penning her first screenplay and veteran Harry Potter director David Yates stepping behind the camera once more. How about we all sit down and watch a new TV spot?
This 30-second spot probably won't change the minds of anyone who already decided to skip this film entirely, but it does feature snippets of new footage and imagery that suggests that this will have more in common with the darker, more hard-edged Harry Potter films. It looks like there won't be a gentle, Chris Columbus-directed warm-up act for this particular series.
Although Fantastic Beasts and Where to Find Them is built around a new core cast of characters, familiar names and faces are expected to play key roles. We already know that one of the series' most iconic characters (and another vital figure who was much discussed but never seen) will figure into the plot. That familiarity bleeds into James Newton Howard's score for the film, which feels very much like a companion piece to the themes originally composed by John Williams (and later re-orchestrated by various other composers across the series). What intrigues me the most about this film is how it's looking more and more like a vital piece of the timeline leading up to Harry Potter's adventures and not just a spin-off lark.
In related news, the film has snagged a coveted release date in China, a nation that only allows a certain number of films produced outside of is borders to be released in theaters each year. The film will open there on November 25, 2016, one week after it opens in the United States.
Fantastic Beasts and Where to Find Them opens on November 18, 2016. If you need to further whet your appetite, Rowling has penned some fascinating new backstory for this corner of her world. And here's the official synopsis:
There are growing dangers in the wizarding world of 1926 New York. Something mysterious is leaving a path of destruction in the streets, threatening to expose the wizarding community to the Second Salemers, a fanatical faction of No-Majs bent on eradicating them. And the powerful, dark wizard Gellert Grindelwald, after wreaking havoc in Europe, has slipped away and is now nowhere to be found.
Unaware of the rising tensions, Newt Scamander arrives in the city nearing the end of a global excursion to research and rescue magical creatures, some of which are safeguarded in the hidden dimensions of his deceptively nondescript leather case. But potential disaster strikes when unsuspecting No-Maj Jacob Kowalski inadvertently lets some of Newt's beasts loose in a city already on edge—a serious breach of the Statute of Secrecy that former Auror Tina Goldstein jumps on, seeing her chance to regain her post. However, things take an ominous turn when Percival Graves, the enigmatic Director of Magical Security at the Magical Congress of the United States of America (MACUSA), casts his suspicions on both Newt and Tina.
Now allied, Newt and Tina, together with Tina's sister, Queenie, and their new No-Maj friend, Jacob, form a band of unlikely heroes, who must recover Newt's missing beasts before they come to harm. But the stakes are higher than these four outsiders—now branded fugitives—ever imagined, as their mission puts them on a collision course with dark forces that could push the wizarding and No-Maj worlds to the brink of war.