LOL: Will Ferrell Returns As Harry Caray To Celebrate The Chicago Cubs In The World Series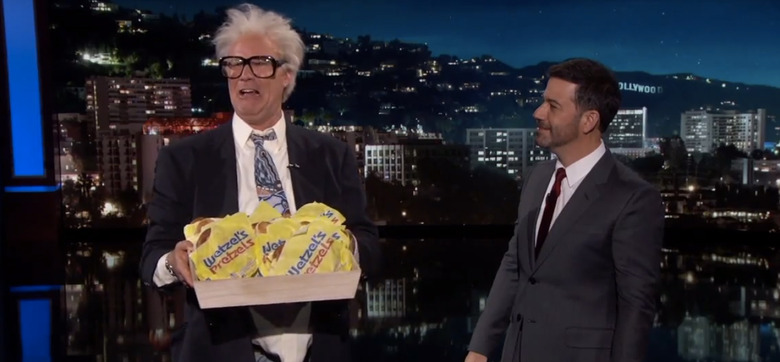 Even though Back to the Future Part II predicted 2015 as the year the Chicago Cubs would win the World Series, the team didn't make it to the Major League Baseball championship game until this year. Over the weekend, the Chicago Cubs won the pennant, and they're headed to the World Series to face the Cleveland Indians in a Midwest baseball battle for the ages. Fans around the country are excited, and even those who don't care much about baseball are happy for the team to get a crack at the championship for the first time since 1945.
Sadly, one fan who isn't around to see this miracle finally come to fruition is Harry Caray, the iconic sports broadcaster who spent the final 16 years of his career covering Chicago Cubs games. He passed away in 1998, but he famously predicted that "as sure as God made green apples, some day the Chicago Cubs are going to be in the World Series." Well, here we are, and even though Harry Caray is no longer with us, that didn't stop him from celebrating.
You may remember that Will Ferrell played Harry Caray several times on Saturday Night Live, appearing on Weekend Update and even hosting his own show about space. Well, Ferrell made an appearance on Jimmy Kimmel Live! last night to celebrate the historic achievement by the Chicago Cubs, and it's just as hilarious as you'd expect.
Here's Will Ferrell as Harry Caray on Jimmy Kimmel Live last night:
Harry Caray is just as confused as ever in his appearance on Jimmy Kimmel, but at least he's excited about seeing the Chicago Cubs in the World Series. Hell, even though I don't loyally follow baseball, thanks to movies I watched growing up like Ferris Bueller's Day Off and Rookie of the Year, I'm pretty damn excited myself. Of course, no one is as elated as Bill Murray, who has literally been waiting his entire life for this day:
It's been 71 years since the Chicago Cubs went to the World Series, but it's been even longer since they won. The last time that happened was back in 1908, so there's a lot of happiness riding on this championship game. Here's hoping Bill Murray gets to throw out the first pitch at one of the games, Will Ferrell gets to announce the game as Harry Caray, and Matthew Broderick and Alan Ruck are in the stands saying, "Hey batta, batta, batta, batta suh-wing batta!"