'Space Jam' And 'Pokemon: The First Movie' Are Returning To Theaters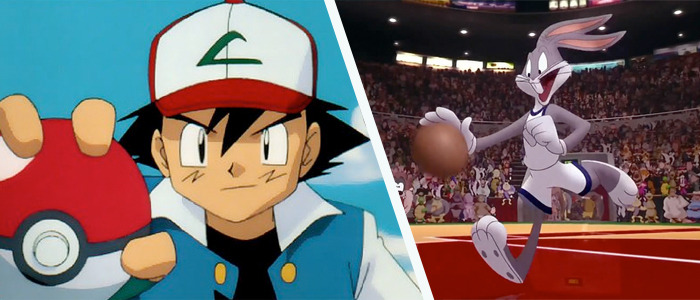 Nostalgia for the 1990s is going strong, and it's about to heat up even more.
It's been 20 years since the live-action animated hybrid film Space Jam hit theaters, and that makes it prime for a return to theaters next month. In addition, even though it's not a special anniversary for Pokemon: The First Movie, it's the 20th anniversary of the original video games that launched the multimedia franchise, and that means it's time for the animated feature film to head back to theaters as well.
Get details on Pokemon: The First Movie and Space Jam in theaters again after the jump.
First up, Cinemark locations will be hosting the re-release of Pokemon: The First Movie at over 200 locations. There will be one opportunity to see the movie each day with showings at 12pm or 12:15pm on October 29th and 7pm on November 1st. Tickets are only $5, and just like the original theatrical release, the short film "Pikachu's Vacation" will also screen with the movie.
If you never saw the first Pokemon movie, it follows Pokemon trainer Ash Ketchum and his trusty Pikachu as they face-off with a legendary Pokemon called Mewtwo. It wasn't exactly a beloved animated feature film, but having pulled in over $85 million in the United States, it's the most successful Pokemon movie to ever hit theaters worldwide. And with Pokemon Go being all the rage this year, there's clearly still an audience that may want to see this movie either again or for the first time.
You can find the closest participating theater over at Cinemark's website. But if anime isn't your style, the classic Looney Tunes are heading back to theaters in November.
Space Jam, the live-action animated hybrid that has Bugs Bunny and Michael Jordan teaming up on the basketball court, is returning to theaters around the country for two days in November. You can catch Space Jam in theaters at 2pm or 6pm on November 13th or 7pm on November 16th.
In addition to Looney Tunes such as Bugs Bunny, Daffy Duck, Elmer Fudd, Tweety Bird, Yosemite Sam, Marvin the Martian and more, you'll find some of the best professional basketball players from the 1990s. Charles Barkley, Patrick Ewing, Mugsy Bogues, Larry Johnson and Shawn Bradley have their basketball skills stolen by little aliens in an effort to win a basketball game against the Warner Bros. cartoons in order to enslave them as entertainers for an intergalactic theme park. Plus there's cameos from Larry Bird and Bill Murray, the latter being one of the best parts of the movie.
Since this is a Fathom Event, there are plenty of theaters partaking in this special screening, and you can find the list of participating theaters at their official website.
Do you want to see Pokemon: The First Movie or Space Jam in theaters again?