'Captain Marvel' Will Have A Director By The End Of 2016, Will Be Marvel's "Strongest" Superhero Yet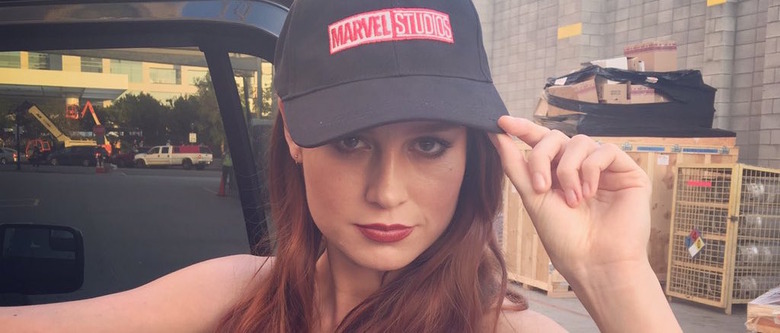 Captain Marvel was first announced in 2014, but it won't hit theaters until 2019, which is why progress on the film has felt like such painfully slow going. Still, Marvel took a very encouraging step forward this summer when they confirmed Brie Larson as the lead superhero. Now the next big task will be locking down a director, which Marvel Studios head Kevin Feige says they'll do by the end of the year.
In a new interview, he explains why it's taken them so long to find a Captain Marvel director, and what to expect from the Marvel Cinematic Universe's first solo leading female superhero. Here's a hint: he describes Carol Danvers a.k.a. Captain Marvel as "by far the strongest character we've had." 
While we've heard reports that Feige has met with filmmakers like Niki Caro (Whale Rider), Lorene Scafaria (Seeking a Friend for the End of the World) and Lesli Linka Glatter (Showtime's Homeland), the studio is clearly taking its time finalizing a decision. So Vulture asked Feige to explain the holdup. Here's his response:
I expect to have a director by the end of the year. We've been meeting amazing filmmakers, but often the way we work, as was the case on Doctor Strange and most of our movies, is that we have a ... I don't want to say a 'road map,' but we have a general view of what the movie is and then we meet with filmmakers and share that with them and then they pitch it back to us in a better fashion.
With Captain Marvel, there's so much potential in the comics and there have been so many incarnations of her powers and the characters who've had that mantle that we've been focusing in on exactly how do we tell her origin. How does it fit into the cosmic side of our universe? How does it fit into what we're doing with the next Avengers movies? So really, that's what's been delaying that particular announcement.
While the character Captain Marvel is expected to make her Marvel Cinematic Universe debut in 2018's Avengers: Infinity War, her standalone film is scheduled for March 8, 2019, meaning Feige and company can afford to take their time. In the meantime, Feige seems as excited about Larson as we are, describing her as an "amazing" actress. And he's already thinking about how Captain Marvel will compare to the other Marvel superheroes we've seen so far. He continued:
It's very important to us that all of our heroes do not become silhouette-perfect cutout icons. All of the Marvel characters have flaws to them, all of them have a deep humanity to them. With Captain Marvel, she is as powerful a character as we've ever put in a movie. Her powers are off the charts, and when she's introduced, she will be by far the strongest character we've ever had. It's important, then, to counterbalance that with someone who feels real. She needs to have a humanity to tap into, and Brie can do that.
It's all well and good for Captain Marvel to be physically strong, but it's really a relief to hear Feige isn't conflating brawn with character development. Too often, "strong female characters" in movies turn out to be women who can beat people up but have no real personality or arc otherwise. But the way Feige describes Captain Marvel, it sounds like she'll be more interesting and more complicated than that. And of course, it always helps to have Brie Larson if you're trying to bring humanity to a role.