'Doctor Strange' Clips: Benedict Cumberbatch Flirts With Rachel McAdams, Learns About The Mystical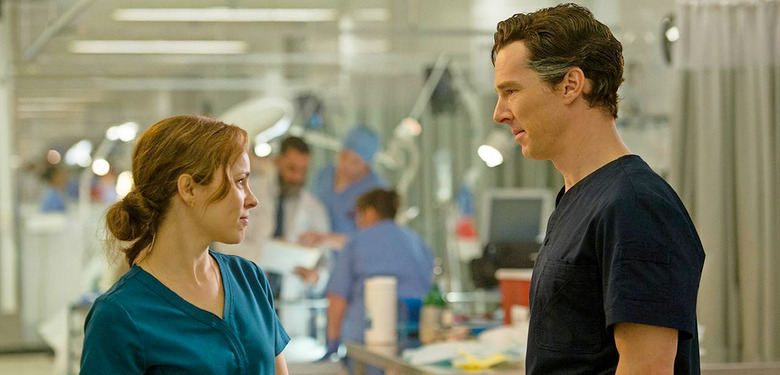 Last night, a bunch of members of the press saw Doctor Strange, and while the reviews are still under embargo, a bunch of initial reactions hit Twitter last night praising the visual spectacle, the incredible action, and Benedict Cumberbatch as Doctor Strange. It doesn't sound like it blows any of our favorites from the Marvel cinematic universe out of the water, but it should be a great franchise starter for another Marvel hero.
If all of the early reactions have you hungry to see the movie, we have a couple Doctor Strange clips that should hold you over. One of them features more Rachel McAdams than we've seen in the entirety of the trailers, displaying the somewhat complicated relationship history that her character has with Strange. Meanwhile, the other clip has a frustrated Strange listening to what he regards as spiritual nonsense from Tilda Swinton as The Ancient One.
The clip with Rachel McAdams provides some insight into the kind of personality Stephen Strange has. It's clear that he has some kind of relationship history with McAdams, but she's always hesitated from making anything more out of it because he sounds like he can be kind of a jerk. Some of the early buzz compared him to Tony Stark in that regard, which would make Strange a nice replacement for whenever Robert Downey Jr. steps away from the Marvel movies.
Here's the second clip featuring Tilda Swinton giving Stephen Strange some mystical education:
This clip shows us even more how abrasive and cocky Stephen Strange can be. He's intelligent and analytical, but has trouble seeing beyond his own abilities and what he thinks he knows. When you take that kind of mind and give him the kind of powers that belong to a Sorcerer Supreme, you have someone who will be quite a force to be reckoned with and the perfect new addition to the Avengers.
From Marvel Studios comes "Doctor Strange," the story of world-famous neurosurgeon Dr. Stephen Strange whose life changes forever after a horrific car accident robs him of the use of his hands. When traditional medicine fails him, he is forced to look for healing, and hope, in an unlikely place—a mysterious enclave known as Kamar-Taj. He quickly learns that this is not just a center for healing but also the front line of a battle against unseen dark forces bent on destroying our reality. Before long Strange—armed with newly acquired magical powers—is forced to choose whether to return to his life of fortune and status or leave it all behind to defend the world as the most powerful sorcerer in existence.
Doctor Strange opens in US theaters on November 4.