'Logan' Trailer Breakdown: Going Through The First Footage Frame-By-Frame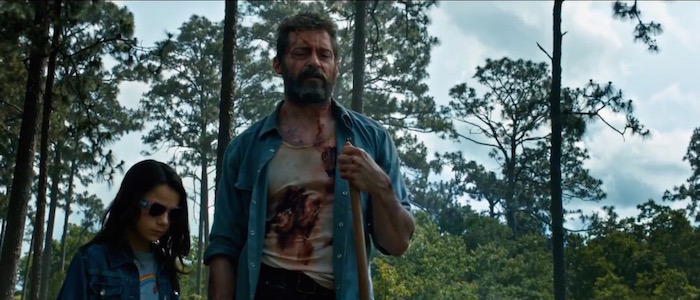 The first trailer for Logan arrived this morning and it's safe to say that the look and feel of this movie is unlike any other X-Men movie. Director James Mangold and star Hugh Jackman seem intent on bringing the saga of Wolverine to a definitive and dramatic close, complete with a trailer that is as solemn as it is exciting.
We're still in the early days of the film's marketing and much about the movie remains under wraps, but there's still a lot to dig into here. Let's comb through that trailer shot-by-shot and frame-by-frame and see what we can discover. Speculation, and maybe accidental spoilers, follow.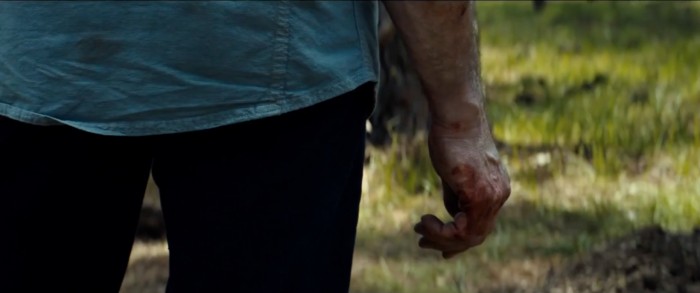 Okay, let's get this out of the way: Johnny Cash's cover of "Hurt" is one of the greatest songs of all time, but that also means it has become one of the most overplayed songs of all time. Still, as a shortcut to explain that this movie is about a broken character struggling with day-to-day existence, it's pretty damn effective. If the final film conjures the feelings this song creates, we could be looking at something very special. As a bonus, the use of the greatest country artist of all time on the soundtrack feels like Logan wearing its western influences as a badge of honor from frame one.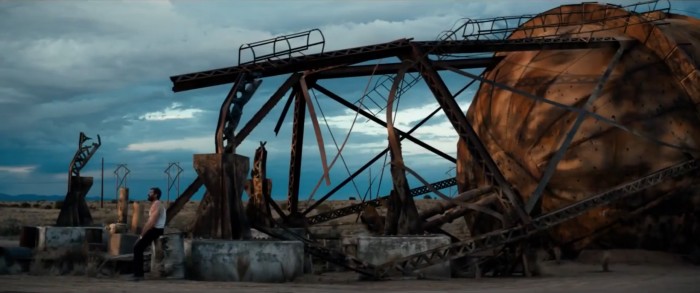 "Charles, the world is not the same as it was." Although the actual plot of Logan is drawing from a few different comic book sources, the setting seems very much inspired by Mark Millar and Steve McNiven's "Old Man Logan." That popular storyline took place in a future where society has essentially collapsed, supervillains dominate the world, and Logan lives in a desert wasteland. From there, "Old Man Logan" and Logan diverge dramatically, especially since the near-future of this film seems to be a more grounded dystopia rather than the more colorful (and often roll-your-eyes level preposterous) landscape of the comic.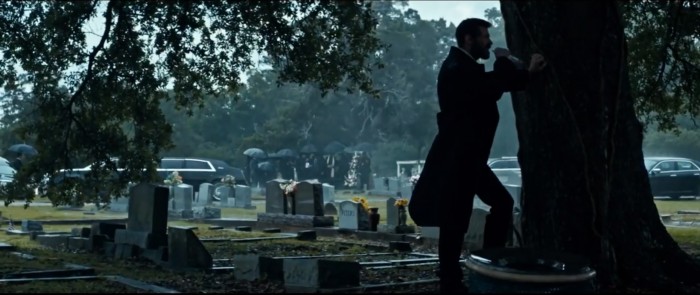 "Mutants...they're gone now." Here's Logan drinking alone at a funeral. So let's go ahead and ask the big question: who's in the coffin? Since this is a movie that appears to be very strongly focused on loss, it wouldn't be surprising in the slightest to learn that the body being buried belongs to a character we've known from other X-Men movies. As choppy as this series' continuity has been, this world was our grand introduction to the modern superhero boom – watching an aging Wolverine deal with the fact that another one of his friends, perhaps a character we've been watching since 2000, is dead could make for a harrowing experience.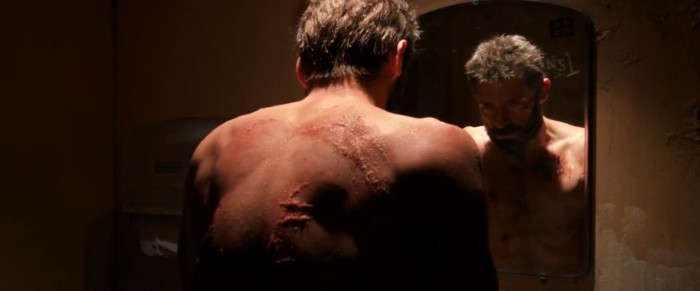 Remember that scene in X2 where Logan is shot in the head, falls to the ground for a minute, and then stands up and shrugs it off? It looks like age is finally catching up to our once-invincible hero and his healing factor is not what it used to me. In a page from the script revealed by director James Mangold, we are told "people will get hurt or killed when shit falls on them" in this movie and that "should anyone in our story have the misfortune to fall off a roof or out a window, they won't bounce. They will die." In other words, prepare for a more stripped-down superhero tale, one where the main character will bleed like the rest of us.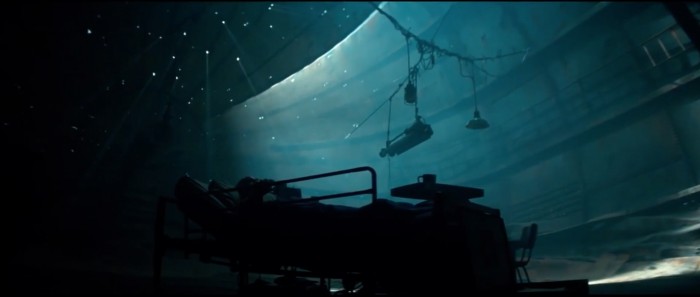 One story detail we do know is that the aging Logan is acting as a caretaker to an ailing Charles Xavier, who is battling both dementia and his increasingly unstable powers. Surely it's no accident that his dilapidated home resembles the same basic layout of Cerebro, the secret room that would enhance his psychic powers.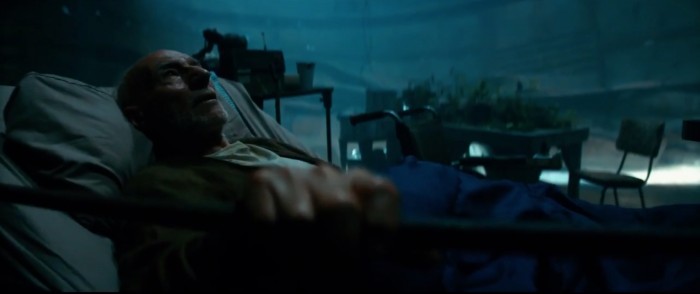 Here's our first look at Professor X himself, and it's noteworthy for two reasons. First of all, it's genuinely painful to see a character known for his great power, a man who has led and mentored some of our favorite superheroes, dying in a filthy hideout in the middle of the desert after his life's mission has seemingly failed. Second, it's kind of astonishing that Patrick Stewart looks so good at 76 that they've literally had to cover him in makeup to sell his old age.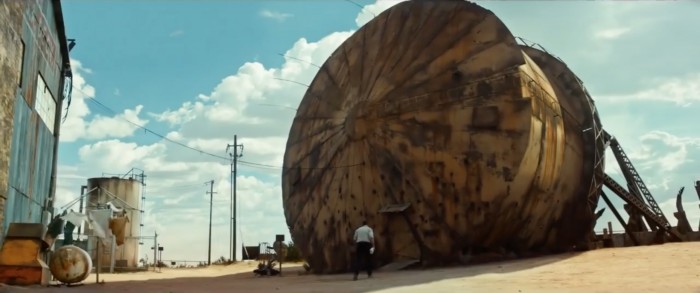 Mangold leans heavily on the western imagery in this footage, blending hints of future dystopia with beautiful shots of arid landscapes. This looks like it could be Logan's home (maybe in the same basic area where Professor X is wasting away?), a literal pile of junk in the middle of the desert, far from the people who have hunted mutants to near-extinction. We'll get to them in a moment.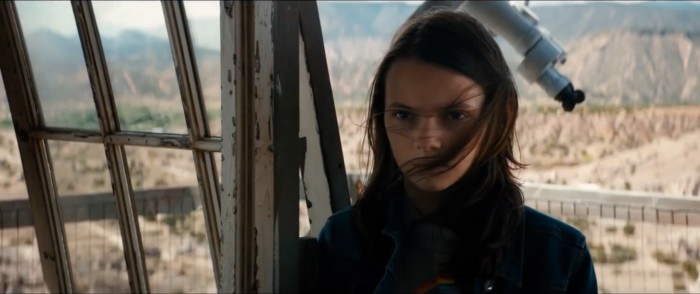 "She's like you. Very much like you." Meet Laura Kinney (Dafne Keen), better known to comic book fans as X-23. As Professor X's dialogue implies, she shares many of Logan's abilities. In fact, her comic book counterpart is a female clone of Wolverine who shares not only his regenerative healing factor, but also his adamantium claws. In the current Marvel comic book universe, where Logan has been dead for a few years, she has taken up the mantle of Wolverine, wearing his yellow costume and everything. It's actually not clear how many similarities the cinematic version of Laura will share will Logan. We can safely assume that she'll be able to heal more quickly than most, but will she ever break out claws of her own? This trailer offers no solid evidence.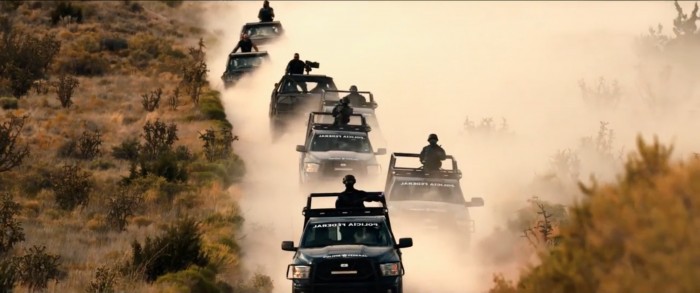 We know that one of the main villains in Logan are a group known as the Reavers. In the comics, they're a group of cybernetically enhanced criminals who were assembled to battle the X-Men and help exterminate mutants entirely. For Logan, they seem have been given a chilling makeover – it looks like they're operating with full cooperation of the authorities. Remember the good ol' days when the government didn't know what to do about mutants? Well, it looks like they made a decision and it's not pretty.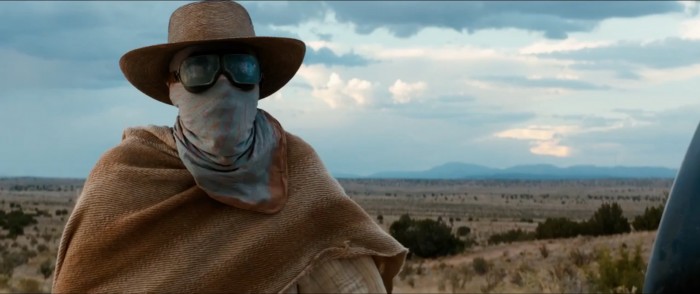 It's not entirely clear who this fellow is, but we can wager an educated guess. This is likely Caliban (Stephen Merchant), the albino mutant who assists Logan in caring for Professor X. Although his power allows him to detect any nearby mutants, his skin wasn't exactly built for the harsh desert sunlight, hence the get-up.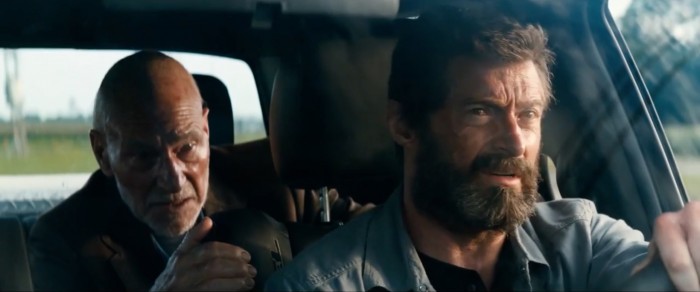 One of the film's big set pieces is a car chase, with Logan at the wheel and Professor X in the back. I'm grabbing this shot because it's easier than trying to grab a more dynamic image of cars speeding alongside moving trains and such. But I'm also grabbing this shot because it features the classic exchange where the weary mentor has to convince the reluctant hero to take up a mission. Specifically, the good professor wants Wolverine to protect Laura. I don't want to say anything too rash, but the mere existence of a scene like this means that Charles Xavier kicks the bucket in this movie, right? Something has to propel Logan back into hero-mode and Professor X needs a more dignified death following his botched demise (and confusing resurrection) in previous movies.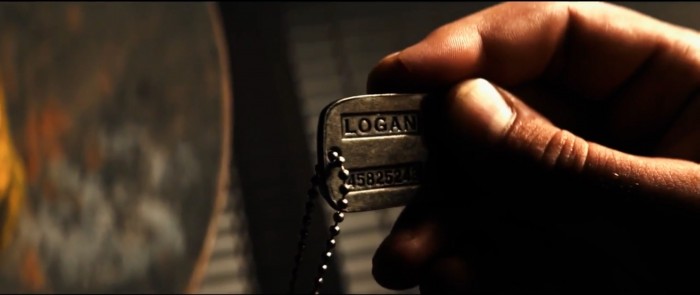 James Mangold: I want to call my movie Logan. It's simple. Classy. Suggests finality.
20th Century Fox: But people know the name Wolverine. Can you work Wolverine into it somehow?
James Mangold: Eh, I'd rather not. Surely people who have been watching these movies for 16 years know Wolverine's name by now.
20th Century Fox: Okay. Fine. But the trailer has to feature a shot that reminds everyone about this.
James Mangold: Fair enough.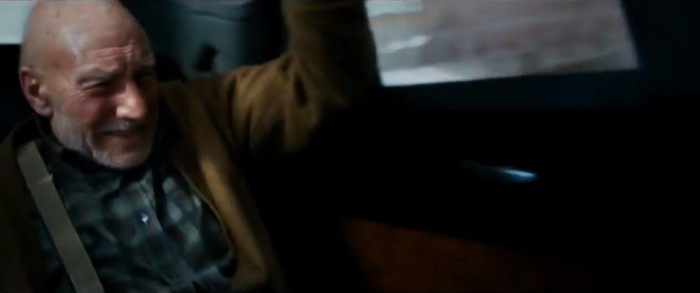 I'm not going to lie to you fine folks: seeing Professor Charles Xavier battling fear and pain while siting helpless in the back of a vehicle during a car chase is tearing my freaking heart in half.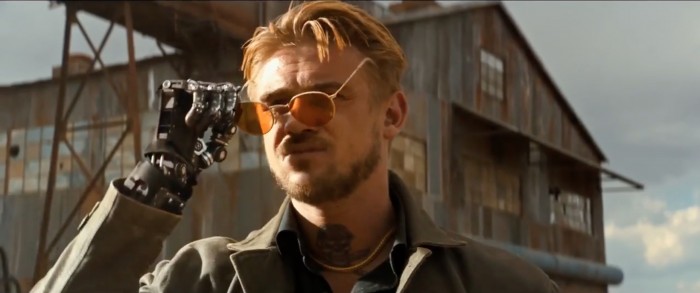 Meet Donald Pierce (Boyd Holbrook), the chief villain of Logan (although Mr. Sinister is supposedly lurking around somewhere). In the X-Men comics, Pierce is a mutant-hating CEO who assembles the Reavers as part of his ongoing war against the X-Men. The cinematic version of Pierce shares some obvious similarities with his comic book self – they're both cyborgs and they both lead the Reavers. It's not clear how much of his comic book backstory will actually make it to the screen. Still, we can count our blessings that he's still partially robotic. Why even include this character unless you milk the fact that he's a cyborg?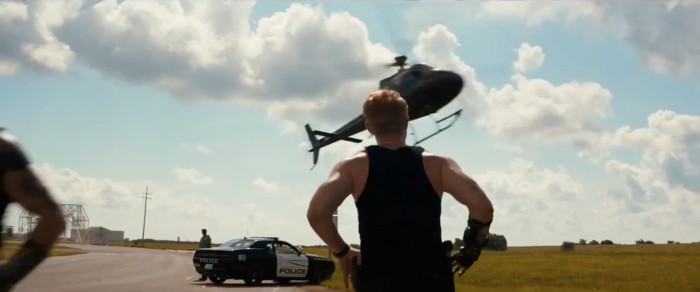 This looks like a shot of Pierce from behind, noteworthy because it offers a different look at his robotic hand. I like this because it feels just near-future enough, looking less like slick sci-fi and more like something that could exist in a decade or two.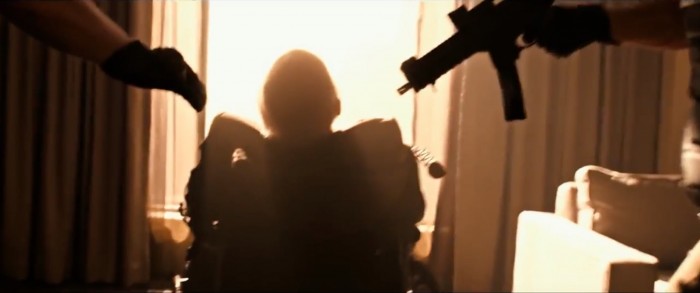 A bald man, writhing in what looks like a wheelchair while armed men approach? Are we looking at the final moments of Charles Xavier? And is that weird ripple effect on the screen supposed to represent his psychic abilities going out of control? (There is actually another possibility for what's going on here, but we'll get there momentarily).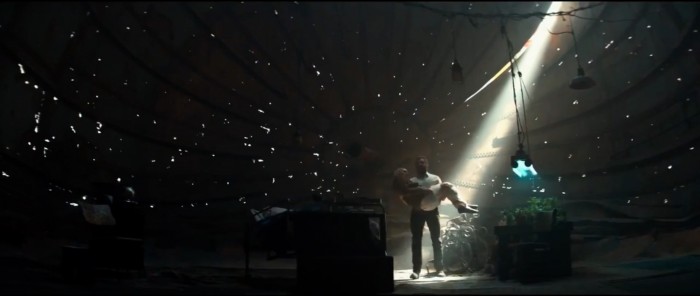 Another heartbreaking shot: Logan carrying Professor X from his wheelchair to his bed, both of them looking older than ever and worse for wear. I especially love how the hundreds of tiny holes across the walls and ceiling double down on this being a broken stand-in for Cerebro, with each speck of sunlight looking like the lights that would flash across those psychically projected maps in the earlier X-Men movies.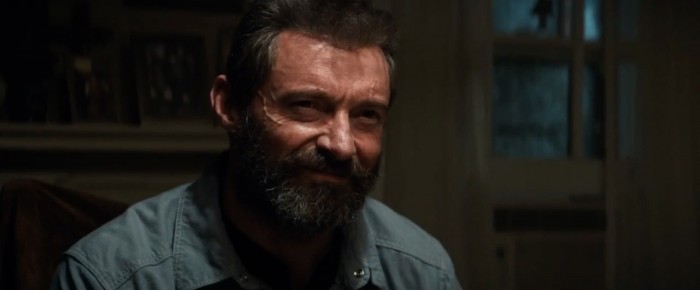 While this movie certainly looks like a grim experience, a superhero movie focused on death and pain and letting go, it looks like we'll be blessed with at least one scene where everyone shares a laugh around a dinner table. Look! It's Logan! And someone said something funny!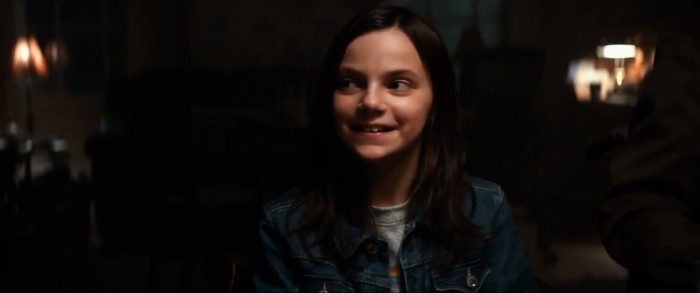 And aww, Laura found it funny, too.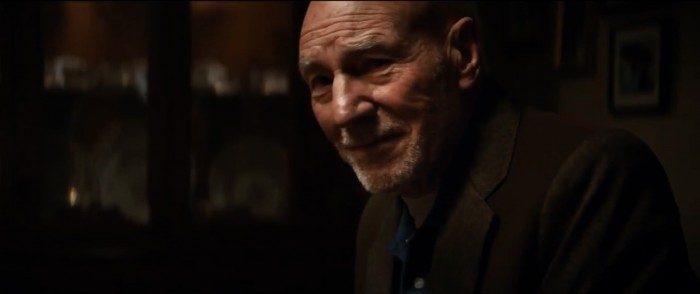 And here's Patrick Stewart breaking my heart again. That expression, laughter tinged with sadness, is why he's one of our world's great artistic treasures.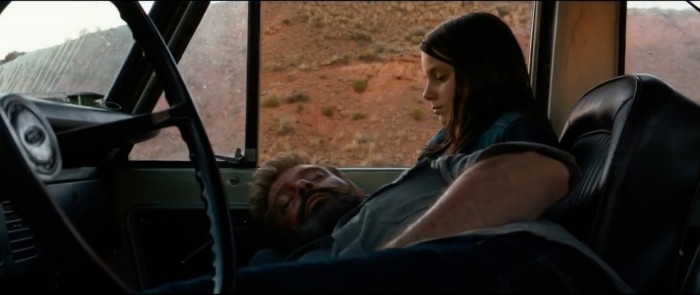 It's not clear if this version of Laura/X-23 will be Logan's genetic clone (my money is on "no"), but the film is certainly leaning hard on the father/daughter imagery. On one level, it seems like every Wolverine story is about him learning to accept a new family and allow other people into his life and we've seen this before. But on another level, there's something potentially profound about watching this character finally and definitively embrace this lesson after 16 years and six movies.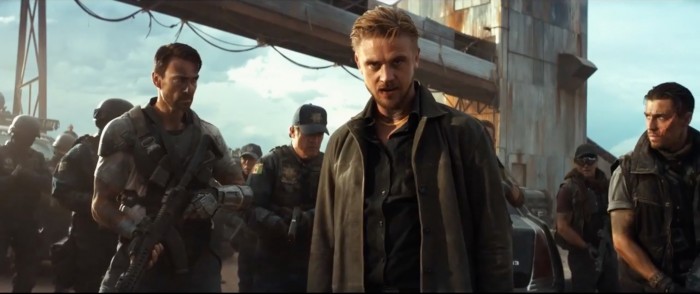 Here's another shot of Boyd Holbrook as Donald Pierce, but the men standing around him should be your focus right now. Although they look more like Blackwater goons than the colorful and over-the-top villains of the X-Men comics, these are the Reavers and they're bad news. While they have certainly been toned down in their leap to the big screen, note the arms of the gentleman on the left, particularly his left hand and forearm. Like their boss, they definitely seem to be enhanced humans, made more powerful through technology to help deal with the mutant "threat."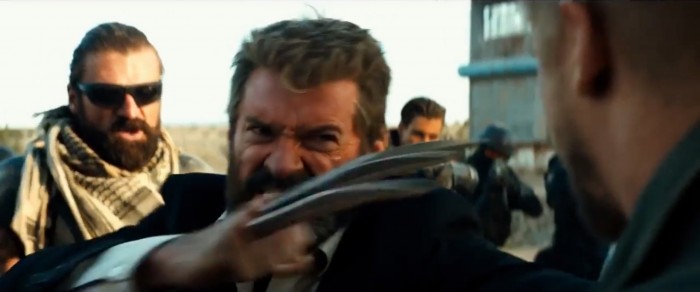 1. This is our first glimpse of Wolverine's claws in the trailer, which is actually a pretty bold choice.
2. This looks like the same setting from the shot above and Logan, surrounded by Reavers, is preparing for a brawl. This also looks like the same area that Logan and Professor X call home, so he's presumably about to defend his homestead from attackers...or from people who have come to take Laura.
3. Logan is wearing a suit in this shot, the same suit he was wearing in that funeral shot from the beginning of the trailer. Does he come straight home from burying a friend, only to find his home under attack?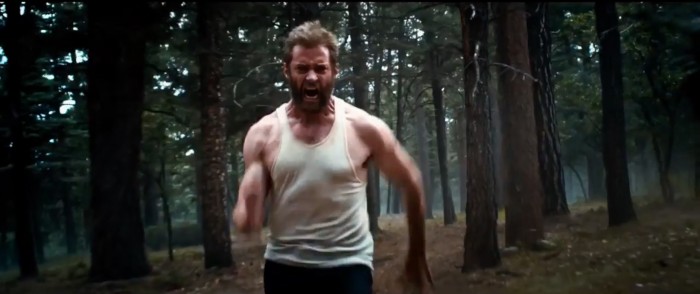 Because it's not a Wolverine movie unless there's a scene where Hugh Jackman wears a sleeveless t-shirt and runs toward the camera in a berserker rage. As different as Logan looks, it's still a Wolverine movie and this thing is probably written into everyone's contracts.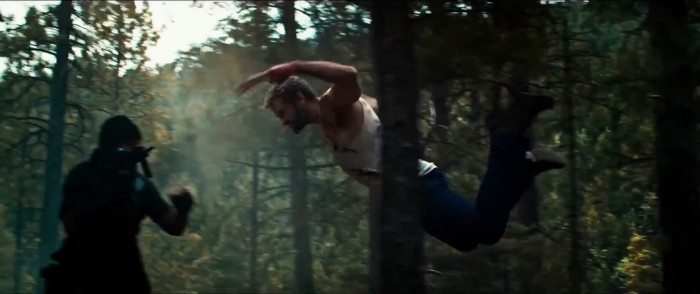 This is a very cool shot and I really don't have anything to add. But I do wonder if Hugh Jackman is overjoyed to know that his days of counting carbs and getting thrown across film sets on wires have come to an end. With this character behind him, maybe he can finally have a donut or a dozen. Every day. And become a fat and happy character actor. Whatever makes him happy, really.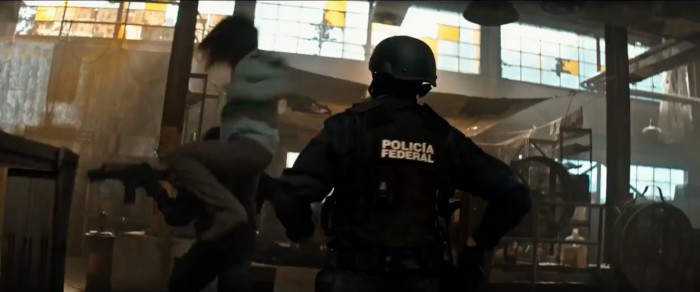 While we don't see her break out any adamantium claws, it does look like young Laura knows how to fend for herself. Just check out this all-too-blurry screen shot where she's taking on a few police officers in Logan's home! Maybe what she needs is a little extra guidance from a certain burly Canadian mutant...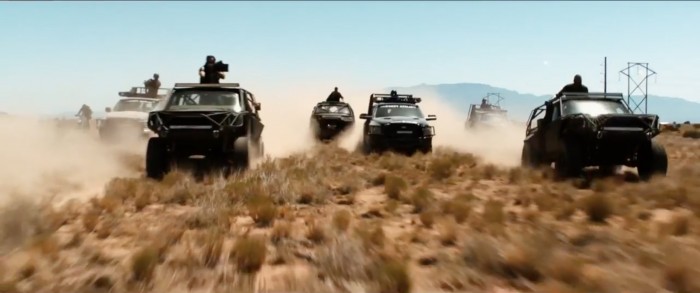 It's probably derivative to see a shot of vehicles driving across a desert, kicking up dust, and immediately think, "Hey, this looks like Mad Max: Fury Road." Then again, much of this trailer evokes that film's desolate, raw, and painfully physical approach to action and drama. We can hope right?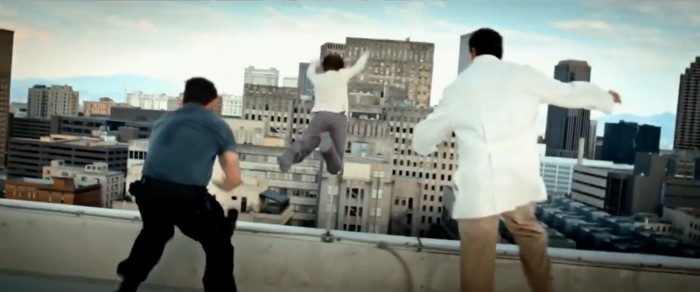 Even completely free of context, there are a few conclusions we can draw from this shot. First of all, the figure jumping off the roof is Laura and we know this because she is seen wearing that same shirt/pants combo elsewhere in the trailer. Second of all, they're in a city, which means that this scene probably comes early in the film or much later in the film and far from the central desert setting. And finally, one of her pursuers is wearing a lab coat, which suggests that she is escaping from the experiment that created her. Hmm...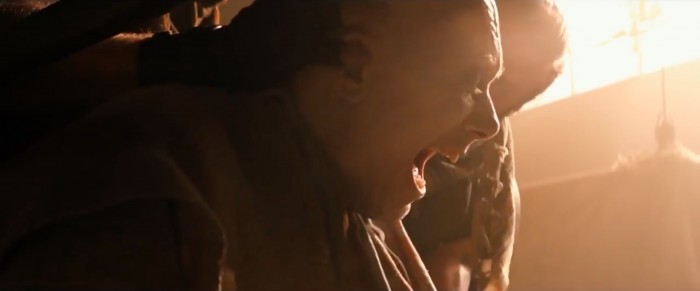 This certainly looks like Caliban, the above-mentioned mutant played by Stephen Merchant, and the setting certainly appears to be the same as that shot of the bald man sitting in a wheelchair as he's approached by armed men. So, here's the question to ponder: is that figure in the first shot actually Professor X or is it the equally bald Caliban?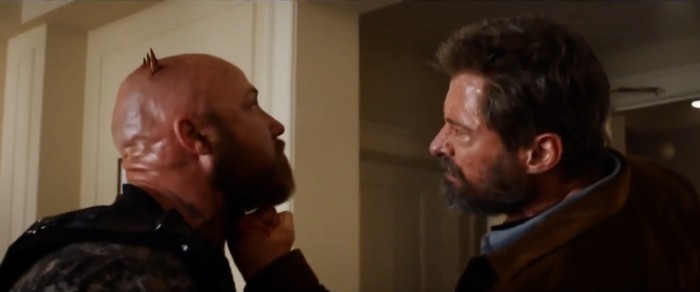 Remember those rumors that Logan was aiming for an R-rating following the success of Deadpool? Technically, this head-stab isn't that much more violent than some of the kills in The Wolverine, but it's just nasty enough to indicate that Mangold and company really went there.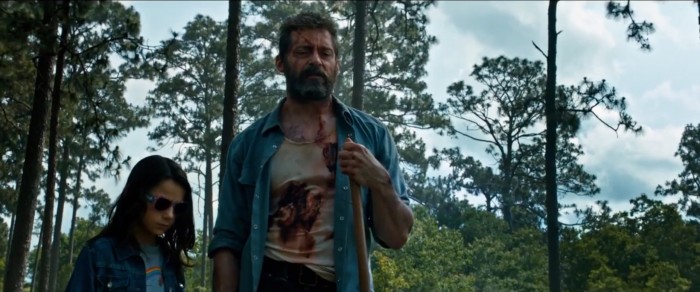 Logan, bloody and beaten and wearing that same shirt he was wearing when he rampaged through the woods, standing alongside Laura, both of them staring at the ground. Logan also holds a shovel. They just held an impromptu funeral, right? Maybe for someone whose death caused Logan to fly into a berserker rage? Maybe a certain professor who used to run a school for gifted children?