'Arrival' Trailer: Can Amy Adams Stop The World From Going To War With Aliens?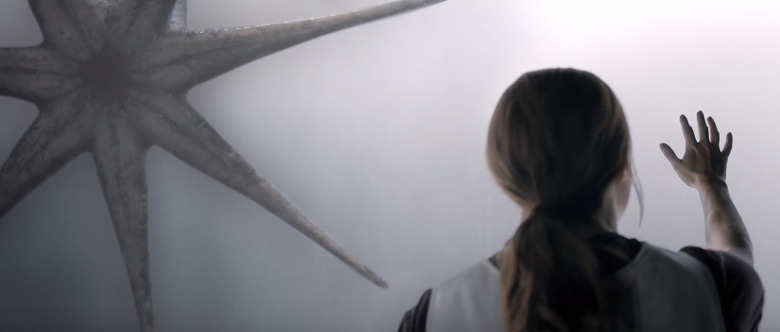 It's a good time to be a sci-fi fan. Sure, there's all the comic book and superhero movies out there right now, but more importantly there are shows like Westworld on HBO and movies like Arrival on the way. After premiering to rave reviews at the Toronto International Film Festival, the new sci-fi drama from Prisoners director Denis Villeneuve is on the way next month, and one quick final trailer gives us one more tease of what's in store. Thankfully, it doesn't give away any of the mystery. If anything it only makes the mystery even more enticing.
Watch the new Arrival trailer after the jump.
Our own Angie Han caught the film at TIFF and in her review, she said it was "more Contact or Interstellar than Independence Day," and that it's "brainy sci-fi with a big, bloody, beating heart." She also said that the movie isn't just about extraterrestrial life coming to Earth, but it focuses on "questions like how we understand the world, how we remember our own stories, why we allow ourselves to suffer, and what we get in return." Beyond that, all the early buzz on the movie on the festival have made this one of my most anticipated movies of the fall.
After a summer full of over the top blockbuster action that didn't really live up to the hype, Arrival looks like the kind of grounded, chilling sci-fi that we need as awards season looms clearer. Perhaps there's a chance that Arrival could become one of those rare genre films that actually ends up in the running for Best Picture. It's a little early to make any solid predictions, but I could see this rounding up the kind of acclaim that District 9 or Avatar did back in 2009.
In addition to Amy Adams in the lead, the cast is stacked with great talent, including Jeremy Renner, Michael Stuhlbarg, Forest Whitaker and more. If you want to see more from Arrival, you can still watch the previously released domestic and international trailers right here.
When mysterious spacecraft touch down across the globe, an elite team – lead by expert linguist Louise Banks (Amy Adams) – are brought together to investigate. As mankind teeters on the verge of global war, Banks and the team race against time for answers – and to find them, she will take a chance that could threaten her life, and quite possibly humanity.
Arrival lands in theaters November 11.