Tom Cruise Could Have Played Iron Man, But He's Not Interested In Playing A Superhero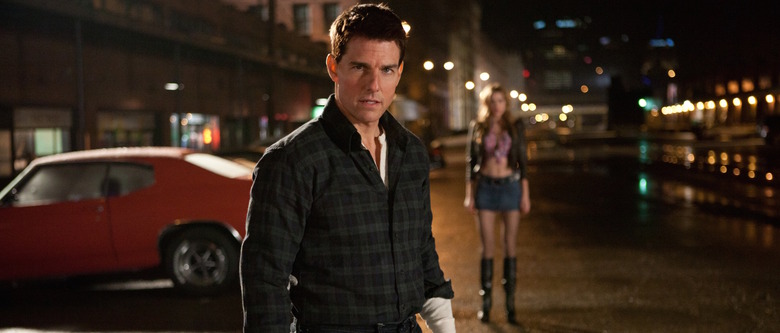 Before it arrived in 2008 to massive box office and reshaped the blockbuster landscape in ways that we're still figuring out, Iron Man endured nearly two decades of development hell. Universal initially acquired the film rights to the character in 1990, but the film failed to find footing for years, with directors, writers, and actors cycling through the project every few years. Directors who were reportedly offered the helm at one point or another include Stuart Gordon, Quentin Tarantino, Joss Whedon, and Nick Cassavetes. It wasn't until 2005 that Marvel got the rights back. They hired Jon Favreau in 2006 and the rest is history.
So when we talk about the fact that Tom Cruise toyed with the idea of playing Tony Stark in an Iron Man movie, it's important to remember that this chatter happened at a time when everyone was seemingly attached to an Iron Man movie. But it makes for good trivia and, more importantly, it makes for a good introduction to a news story about whether or not Cruise has any interest in playing superheroes these days.
Just for the record, Cruise considered taking on Iron Man in 1998, one year after Nicolas Cage also expressed interest and ten years before the character made Robert Downey Jr. a star.
Cruise was a recent guest on Jimmy Kimmel Live and while he was there to promote Jack Reacher: Never Go Back, he found himself answering the question that every celebrity gets asked in every single interview: would you play a superhero? Specifically, Kimmel asks Cruise if he's been approached by Marvel or DC to play a character and Cruise does one those patented Movie Star Question Dodges:
The implication here is that Cruise is perfectly happy starring in Mission: Impossible and Jack Reacher movies for the time being, thank you very much. And I'll go ahead and say it because I don't think Cruise would say it – Tom Cruise already plays a superhero. He plays Tom Cruise. I mean, have you seen the past few Mission: Impossible movies? You know, the movies where he climbs the world's tallest buildings and holds his breath underwater for dizzying amounts of time and generally puts himself in danger for the sake of thrilling an audience? Look, I love superhero movies, but Cruise has gotta' Cruise, which means bringing his particular flavor of movie stardom to excellent action movies like the first Jack Reacher. He doesn't need to play a superhero because he's already playing them, just without the colorful costume.
Plus, superhero movies don't need Tom Cruise. These movies tend to function better when they elevate an interesting actor to stardom (Christian Bale, Robert Downey Jr., Chris Evans, Margot Robbie, Henry Cavill) rather than build a character around a star. Will Smith's presence in Suicide Squad appears to be the exception there.
Jack Reacher: Never Go Back opens this Friday.