'Guardians Of The Galaxy Vol. 2' Teaser Poster Is Black And White And Just Plain Cool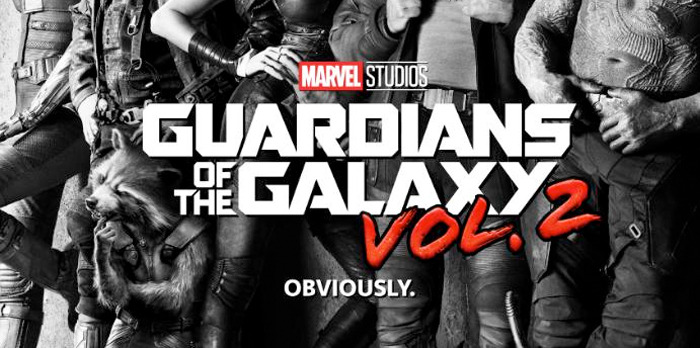 Just recently, the first teaser trailer for Guardians of the Galaxy Vol. 2 was classified with a running time of 1 minute and 29 seconds. With Doctor Strange set to hit international markets next week, we're likely to get this teaser trailer either later this week or early next week. But in the meantime, the first Guardians of the Galaxy 2 teaser poster has arrived.
Unlike the polished posters we've come to expect from Marvel Studios movies, this particular teaser poster looks more like an album cover straight out of the 1980s, and it has a rather cocky tagline as well. Check out the poster after the jump.
Here's the official Guardians of the Galaxy 2 teaser poster from Marvel: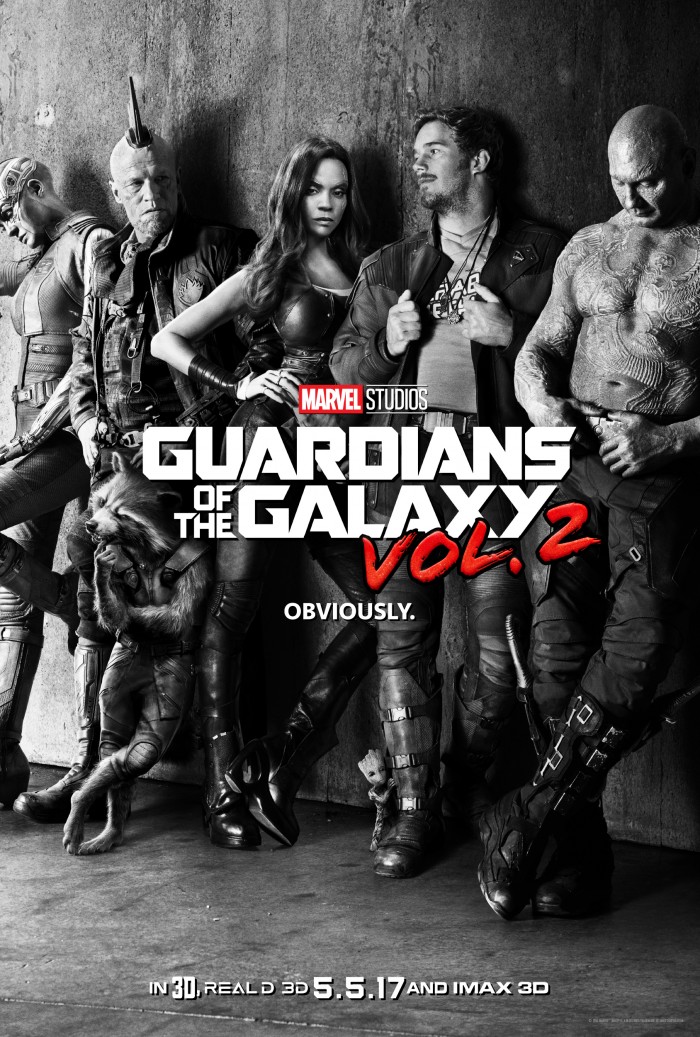 All the Guardians of the Galaxy are accounted for, though it might have taken you a moment to spot little baby Groot hiding behind Star-Lord's leg there at the bottom. James Gunn made sure to give us a really good close-up shot of the little guy on Twitter too:
Yes, yes, in case you missed it... pic.twitter.com/vlGYBBtQn0

— James Gunn (@JamesGunn) October 19, 2016
Plus, the poster confirms what we've heard in reports and saw at Comic-Con with regards to two additional characters being added to the team. Yondu (Michael Rooker) and Nebula (Karen Gillan) are lined up with our heroes played by Chris Pratt, Zoe Saldana, Dave Bautista, Vin Diesel and Bradley Cooper.
James Gunn recently talked about how the female power on display in this sequel will do more than satisfy. As the director said:
"...with Gamora, Nebula, and Mantis in action, where we not only pass the Bechdel test, but run over it and back up over it again and again in an eighteen-wheeler truck, and where their stories and the men's stories don't come at the expense of each other, but are interwoven in a way to strengthen and optimize all of them."
The rest of the cast of Guardians of the Galaxy 2 not pictured in the poster above includes Pom Klementieff, Sean Gunn, Glenn Close, Elizabeth Debicki and Kurt Russell. Plus, there's also a cameo from Sylvester Stallone.
Set to the backdrop of 'Awesome Mixtape #2,' Marvel's Guardians of the Galaxy Vol. 2 continues the team's adventures as they traverse the outer reaches of the cosmos. The Guardians must fight to keep their newfound family together as they unravel the mysteries of Peter Quill's true parentage. Old foes become new allies and fan-favorite characters from the classic comics will come to our heroes' aid as the Marvel cinematic universe continues to expand.
Guardians of the Galaxy Vol. 2 opens in theaters on May 5th, 2017.