'Death Race 2050' Trailer: This Wacky Series Goes Back To The B-Movie Basics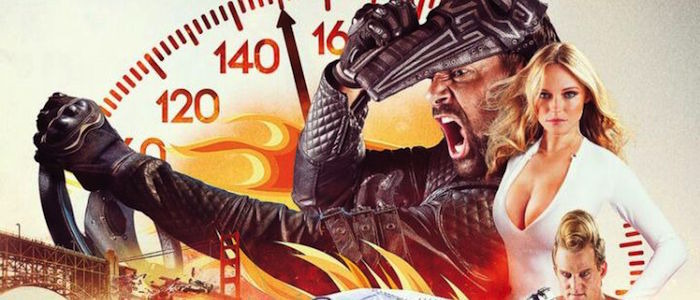 The mere existence of Death Race 2050 is going to confuse a few people and I'd be lying if I said that didn't delight me just a little bit. This is the direct sequel to producer Roger Corman's schlocky 1975 film Death Race 2000, ignoring Paul W.S. Anderson's 2008 remake Death Race and its two direct-to-video sequels, Death Race 2 and Death Race 3: Inferno. Anyone who only knows this series from the more grim and serious-minded (but not exactly serious) remake series may get whiplash from the new Death Race 2050 trailer, which harkens back to the tone of the original movie in a big way.
Produced by Corman and directed by G.J. Echternkamp, Death Race 2050 takes place in a future where the United States has been carved up by corporations and where the most popular event in the nation is a cross-country race where drivers get extra points for taking down pedestrians. It was a pitch-black concept in 1975 and it can't help but feel even darker now, which makes the cartoonish tone and slapstick comedy all the more jarring. The original film is the kind of movie that invites you to compare it to various science fiction dystopia films and The Three Stooges in the same breath. It has no right to exist and the mere fact that it does makes it worth checking out.
And the new sequel looks very much in line with the original: extremely low-budget but also pretty wild. I can only hope the final movie (which is going straight to Blu-ray and VOD) captures the lunatic energy and remorseless, mean-spirted comedy of the original.
Despite taking place fifty years after the first movie, the official synopsis describes a movie that might as well be a remake, but that's perfectly okay:
In the not-too-distant future, America is controlled by an all-powerful corporate government that keeps the masses placated with violent virtual-reality entertainment. The event of the year is the Death Race, where a motley assortment of drivers compete in a cross-country road race, scoring points for running down pedestrians and killing each other. The reigning champion and popular favorite is half-man, half-machine Frankenstein — but little does he know he's taken on a rebel spy as his co-pilot.
The film's cast includes Manu Bennett (of Spartacus and Arrow fame) as Frankenstein, the popular driver previous played by David Carradine and and Jason Statham. Malcolm McDowell, one of our least-picky great actors, plays the chief villain.
Death Race 2050 will arrive on Blu-ray, DVD, and VOD on January 17, 2017.