This New 'Twin Peaks' Season 3 Featurette Doesn't Prove That 'Twin Peaks' Season 3 Actually Exists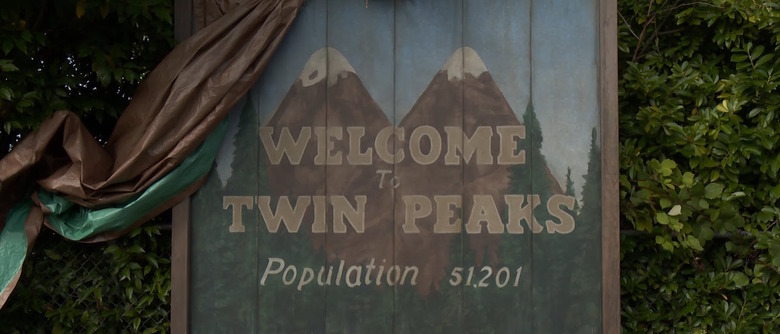 I won't be convinced that Twin Peaks season 3 actually exists until the closing credits roll on the first episode sometime next year. Until that happens, the return of one of television's most beloved and most frustrating shows is purely theoretical. Not even this new featurette, which features members of the original cast and a few newcomers discussing what it's like to return to that bizarre small town, has me certain about this.
As you'd expect, the featurette doesn't contain any footage from the show. However, it does feature some (EASILY FAKED?!) behind-the-scenes footage featuring the likes of original series star Kyle MacLachlan and co-creator/director David Lynch on set. MacLachlan himself is one of the talking heads in the video below, where he is joined by Jim Belushi, Miguel Ferrer, Kimmy Robertson, Dana Ashbrook, Amy Shiels, James Marshall, Robert Knepper, Chrysta Bell, and Harry Goaz.
Don't hit play expecting anyone to reveal any secrets or plot details of showcase emotions beyond "contractually obligated amazement and amusement."
Not appearing in this video: the dead Laura Palmer, whose murder kickstarted this whole mystery way back in 1990 (although she did appear in the most recent teaser). Also not appearing in this featurette: Naomi Watts, Michael Cera, Monica Bellucci, Tim Roth, Laura Dern, Ashley Judd, Amanda Seyfried, and Jennifer Jason Leigh, Jeremy Davies, Ernie Hudson, David Koechner, Derek Mears, Matthew Lillard, Tom Sizemore, Harry Dean Stanton, Ethan Suplee, Caleb Landry Jones, Jane Levy, Sara Paxton, and Charlene Yi, Trent Reznor, Eddie Vedder, Richard Chamberlain, and Robert Forster, all of whom apparently play a role in the new season. Do you see why I'm not convinced that this whole thing isn't an elaborate joke?
Twin Peaks will apparently return sometime in 2017. We don't have an episode yet because Lynch is apparently figuring that number out in the editing room. How is this real? Here's the official synopsis, which, rather appropriately, doesn't synopsize anything:
The critically-acclaimed, ground breaking television phenomenon TWIN PEAKS returns as a limited series to SHOWTIME in 2017. Currently in production, TWIN PEAKS is written and produced by series creators and executive producers David Lynch and Mark Frost and is directed entirely by David Lynch. While the full mystery awaits, fans can expect many familiar faces, including Golden Globe® winner and Emmy® Award nominee Kyle MacLachlan, who reprises his role as FBI Agent Dale Cooper.
Widely considered one of the most groundbreaking and influential broadcast series of all time, TWIN PEAKS followed the inhabitants of a quaint northwestern town who were stunned after their homecoming queen Laura Palmer was shockingly murdered. The town's sheriff welcomed the help of FBI agent Dale Cooper, who came to town to investigate the case. As Cooper conducted his search for Laura's killer, the town's secrets were gradually exposed. The mystery that ensued set off an eerie chain of events that plunged the inhabitants of Twin Peaks into a darker examination of their very existence. Twenty-five years later, the story continues...