New 'Rogue One' Character Details (And Other Noteworthy News) Revealed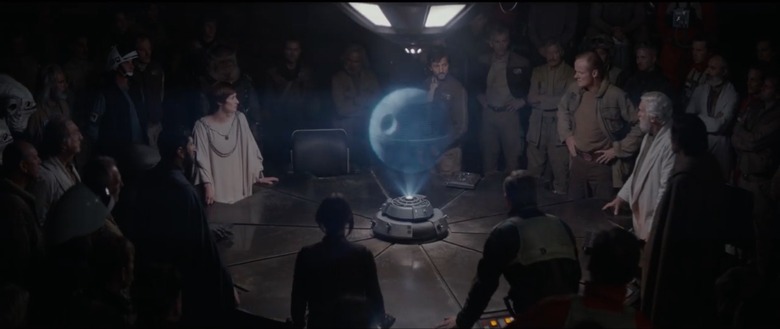 Last week's third (and final) Rogue One: A Star Wars Story trailer gave us a great deal to talk about. Now, the actors involved have given us even more. The past few days have seen new character details revealed and a fair share of new interviews with various cast members, so how about we run through everything you need to know?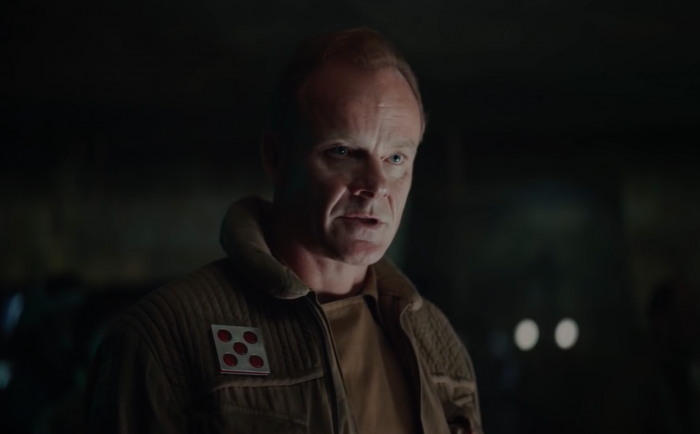 Who the Hell Is This Guy?
That guy in the picture above? The guy who has shown up in all three Rogue One trailers so far? The guy that some fans have suggested could be Agent Kallus, an Imperial officer from Star Wars Rebels who may have changed sides, because actor Alistair Petrie bears a slight resemblance to the character? We finally know who he is thanks to Entertainment Weekly, who got this quote from director Gareth Edwards:
His name's General Draven. It's no official secret. Sometimes I read stuff online like it's this big thing that's been leaked, and I thought, 'Oh, I thought people knew that.'
I'm as guilty as anyone for wondering if this guy was a familiar face hiding in plain sight. After all, footage from Rogue One has revealed familiar faces like Mon Mothma and General Dodonna playing roles in the film (although they're played by new actors, of course). Anyway, we can expect to learn General Draven's entire backstory in various comics and novels and video games and toy box descriptions soon enough!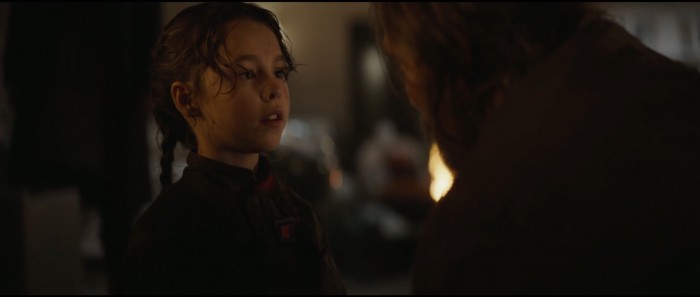 The Ages of Jyn Erso
In Rogue One, Felicity Jones plays a Rebel soldier named Jyn Erso, whose scientist father, Galen Erso (Mads Mikkelsen), is being used by the Empire to build the Death Star. We know from the trailer that Rogue One features at least one flashback to Jyn's younger days, when she watches her father get taken by Imperial forces led by Ben Mendelsohn's Director Krennic. In a new interview with GQ, Mikkelsen revealed that we may actually see more younger Jyn than we initially thought:
I worked a few days with Felicity Jones and she is a wonderful actress. I worked with Jyn at three stages, and three different ages, so there was a little kid that was four, one that was eight, and then there was Felicity. So that was wonderful. I spent a lot of time with Ben Mendelsohn and that was hilarious. He's a very funny man and he makes the day just fly by.
So there you go: Ben Mendelsohn is just as entertaining in real life as he is on late night talk shows! And also, we'll get to see Jyn at three points in her life, not just two. We know from the upcoming Catalyst tie-in novel that the Erso family initially fled Krennic's grasp during the Clone Wars, so maybe the youngest Jyn material will take place at that time, during the events of the prequel trilogy.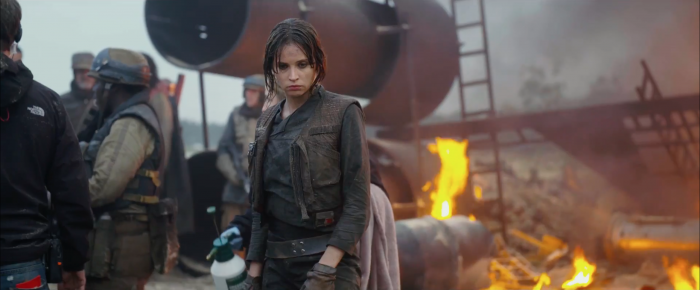 Which Cast Member Got the Biggest Paycheck?
If you're tired of fictional details about fictional characters, there's always this Felicity Jones profile over at The Hollywood Reporter, which touches on all three of the movies she's appearing in during the homestretch of 2016: Inferno, A Monster Calls, and, of course, Rogue One. There's also this tidbit, which reveals that Jones was the highest paid member of the ensemble cast:
Obviously, of all the parts Jones will be playing over the next three months, Jyn is the one with the most star-making potential — and also the one carrying the highest risks. It's her biggest payday to date (seven figures, while no other castmember received even mid-six figures, according to sources), but she takes the hardest PR hit if the film doesn't match Force Awakens' numbers.
While this is certainly interesting, the choice of words here is rather unfair. Surely no one, not even the most optimist Disney accountants, expects Rogue One to match The Force Awakens' box office haul. Hell, Star Wars: Episode 8 won't even match The Force Awakens' box office total. That film had the benefit of being the first Star Wars movie in over a decade and audiences were curious and thirsty and chomping at the bit for it. Rogue One, a spin-off movie without many familiar characters coming out only a year later, simply won't have the same box office energy. It'll do well! It'll make a ton of money! Everyone should be happy! But implying that Jones will suffer if her movie doesn't do the enormous box office of another movie that benefitted from greater anticipation on every level feels a little irresponsible.
But hey, the rest of the profile is quite good! And knowing that Jones took inspiration from Florence + The Machine to play Jyn pretty much makes my day:
Jones made a scrapbook for her role in Rogue One, as well, although her true inspiration for Jyn, a street delinquent turned Rebel Alliance hero, wasn't anything she found in pictures or writing. Before the six-month shoot outside London began in August 2015, she spent hours watching music videos, particularly those of Florence + the Machine. When you think about it, it makes sense: The British indie rock band is led by Florence Welch, an ethereal figure who floats and contorts on the stage. "So much of Jyn is movement," says Jones. "It became a very important part of finding her. She walks almost a bit like a caged animal. Her fight sequences become like dances."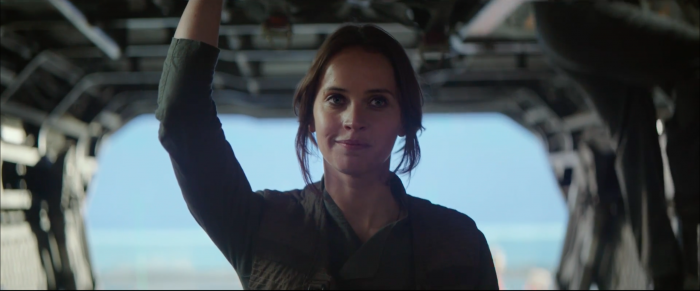 A Conversation With Felicity Jones
Felicity Jones was a guest on a recent episode of the Empire podcast and while she was there to discuss her role in the upcoming Inferno, the conversation drifted into Star Wars territory. There aren't too many grand revelations here, but she does talk about her Jyn Erso costume, her reaction to seeing a LEGO minifig in her image, and doing her Star Wars research with Gareth Edwards. Bonus: she has Tom Hanks stories and who would say no to a Tom Hanks story?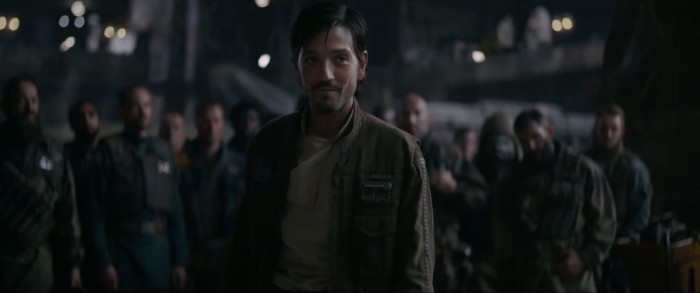 Diego Luna Saw Darth Vader and He Liked It
Speaking with Entertainment Tonight, Diego Luna talked about his audition process to play Cassian Andor in Rogue One and how he showed up on the same day the new Darth Vader costume was undergoing lighting tests:
Rogue One hits theaters on December 16, 2016.