'Into The Inferno' Trailer: Werner Herzog Takes You On A Worldwide Volcano Tour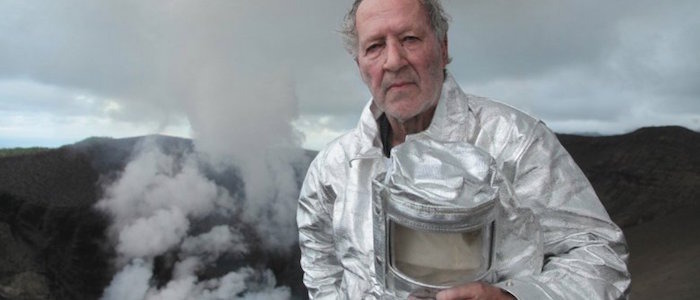 There are days where Werner Herzog threatens to become a meme, a joke thrown around by people who find his unique presence and offbeat/nihilistic worldview intoxicating and amusing. And then the man turns around and releases another movie and reminds you that he is one of the great artists of the past century or so, a monumental figure whose work makes every single imitation and joke look pale in comparison. Even when his movies aren't especially good, they're singular and the work of a true genius doing things in a way that are totally unique to him.
Into the Inferno is the latest documentary from Herzog and it finds him once again taking on one of his favorite subjects: the power of nature and the awe-inspiring grip it has on tenuous human civilization. More specifically, this is a movie where Mr. Herzog visits a whole bunch of volcanoes and the trailer sure looks impressive.
The trailer touches on all of the usual touches you'd expect from a Herzog doc. There is the gorgeous cinematography, apparently filmed by a crew with no fear of death. There is a focus on both the scientific and the spiritual, with each informing each other in surprising ways. And, of course, there's the solemn and philosophical voice over narration from Herzog himself, delivering lines that would feel awkward coming out of anyone else's mouth but sing when paired with instantly recognizable accent and delivery.
Watching this trailer, I'm instantly reminded of two of my favorite Herzog documentaries. There seems to be a little bit of Grizzly Man in here, as both films examine how society grows comfortable and lazy around nature, forgetting that it can be unpredictable at best and deadly at worst. It also looks like a potential companion to Encounters at the End of the World, which dwelled on mankind's absurd, moving, and often frightening coexistence with a landscape that was not built to tolerate human life. Herzog's documentaries tend to lean heavily on the doom and gloom, but they're also full of life. We're all going to die, Herzog's filmography declares, so why not have a laugh and learn as much as you can while you can?
Into the Inferno, which had a fairly successful festival run last month, will open in limited theatrical release and drop on Netflix on October 28, 2016. Although streaming would certainly be the more convenient option, a Herzog movie should be seen in theaters, if possible. Plan accordingly. Here's the official synopsis:
Werner Herzog and volcanologist Clive Oppenheimer embark upon a global journey exploring some of the world's most mythical volcanoes in North Korea, Ethiopia, Iceland and the Vanuatu Archipelago. Speaking with scientists and indigenous peoples alike, they seek to understand the complex and deeply rooted relationship between mankind and one of nature's greatest wonders. Produced by Spring Films, Werner Herzog Film and Matter of Fact Media, Into the Inferno artful
ly blends reportage, history and philosophy into a riveting cinematic experience.