'Moana' Clip: Dwayne Johnson Is A Hero To All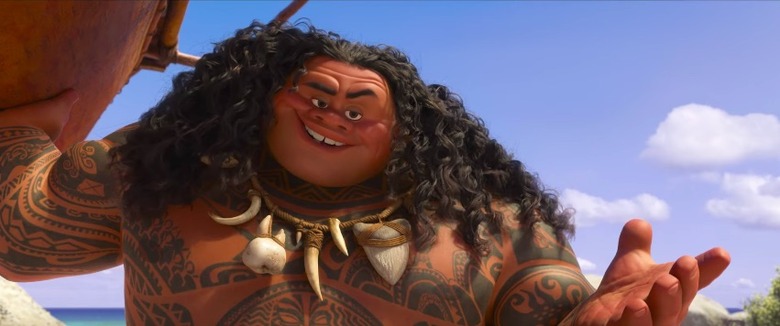 Disney's Moana is inspired by many things, like the rich mythology of ancient Oceania and the irresistible charisma of Dwayne Johnson. The first Moana clip leans on both, as Maui (Johnson) meets Moana (Auli'i Cravalho) for the first time and teaches her how to make a proper introduction. Turns out the guy is very particular about his titles. Watch the first Moana clip below.
Moana Clip
A @Twitter EXCLUSIVE: A lesson on how to address the demigod, Maui. Enjoy the clip! #MoanaMondays 🎼🌊 pic.twitter.com/7p0zxhH0VH

— Dwayne Johnson (@TheRock) October 17, 2016
Seems appropriate that this clip debuted on Twitter, right?
Johnson seems like perfect casting for Maui, a larger-than-life figure who's arrogant and oblivious but kinda lovable all the same. He's a bit like Gaston from Beauty and the Beast, if Gaston were way nicer. Moana's complete befuddlement at him is also pretty delightful. Oh, and that rooster, by the way, is Hei Hei, who was saved from the chopping block at the very last minute — you can read the full story here.
The Moana clip above is one of a handful we saw this weekend at a special footage presentation. Others included Moana's first encounter with the sea and a Mad Max: Fury Road-inspired action sequence involving the Kakamora (the cute but crazy coconut warriors we've seen in trailers). We'll have our report from the event up later this morning, so watch this space.
Moana opens November 23.
Three thousand years ago, the greatest sailors in the world voyaged across the vast Pacific, discovering the many islands of Oceania. But then, for a millennium, their voyages stopped – and no one knows exactly why. From Walt Disney Animation Studios comes "Moana," a sweeping, CG-animated feature film about an adventurous teenager who sails out on a daring mission to save her people. During her journey, Moana (voice of Auli'i Cravalho) meets the mighty demigod Maui (voice of Dwayne Johnson), who guides her in her quest to become a master wayfinder. Together, they sail across the open ocean on an action-packed voyage, encountering enormous monsters and impossible odds, and along the way, Moana fulfills the ancient quest of her ancestors and discovers the one thing she's always sought: her own identity.