'The Lost City Of Z' Finally Has A Spring 2017 Release Date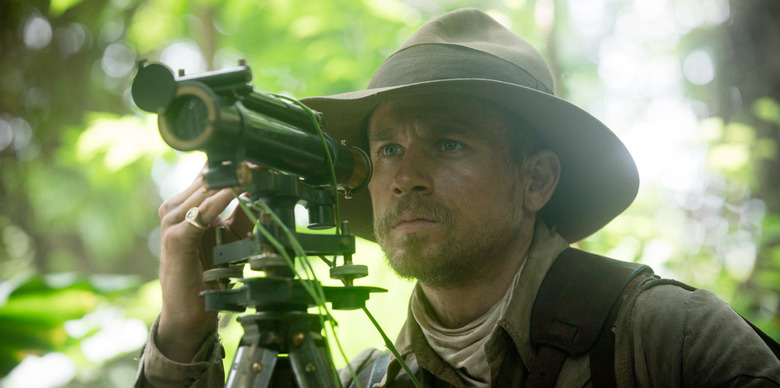 This weekend brings the world premiere of The Lost City of Z as the closing night film of the New York Film Festival. The adaptation of David Grann's true story of the same name has been written and directed by James Gray, and we've been waiting to hear when this movie might finally get a release after the trailer leaked earlier this past spring (and was taken down shortly thereafter). Now we finally have an answer.
Amazon Studios and Bleecker Street have announced that The Lost City of Z release date is April 21, 2017. As of now the only real competition that weekend is the Warner Bros. thriller Unforgettable starring Katherine Heigl and Rosario Dawson and a Disneynature documentary called Born in China. However, Fast 8 arrives the week before, and seems likely to dominate in its second weekend unless another big release ends up landing this weekend as well.
If you're not familar with The Lost City of Z, the film stars Charlie Hunnam (Pacific Rim, Crimson Peak) as Lieutenant Colonel Percy Fawcett, a legendary British explorer who ventured into the Amazon jungle in search of the titular fabled civilization but never returned. Many have tried to find him, but many have died in their pursuit, unable to find any evidence of this mysterious place.
The rest of the cast includes Robert Pattinson plays his exploration partner Henry Costin. Other supporting stars include Sienna Miller as his wife Nina Fawcett and Tom Holland as another explorer. That's a solid assembly of talent, and this could be a solid film to break up the monotony of April releases that has only recently been interrupted by the Fast and Furious franchise. At the very least, it will be some nice counter-programming to the action franchise.
If you want to know more about The Lost City of Z, here's the description from the New York Film Festival:
James Gray's emotionally and visually resplendent epic tells the story of Lieutenant Colonel Percy Fawcett (a remarkable Charlie Hunnam), the British military-man-turned-explorer whose search for a lost city deep in the Amazon grows into an increasingly feverish, decades-long magnificent obsession that takes a toll on his reputation, his home life with his wife (Sienna Miller) and children, and his very existence. Gray and cinematographer Darius Khondji cast quite a spell, exquisitely pitched between rapture and dizzying terror. Also starring Robert Pattinson and Tom Holland, The Lost City of Z represents a form of epic storytelling that has all but vanished from the landscape of modern cinema, and a rare level of artistry.