Rob McElhenney's 'Minecraft' Adds 'Pan' Screenwriter Jason Fuchs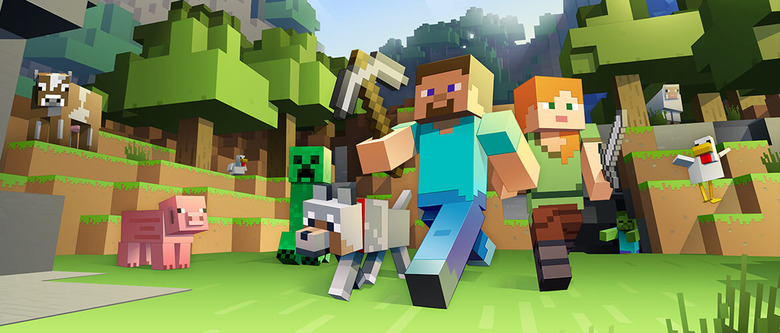 Jon Spaihts (Passengers) recently wrote a draft of director Rob McElhenney's (It's Always Sunny in Philadelphia) Minecraft, a live-action adventure film based on the game that allows players to build, explore worlds, and fight monsters. Now, a new draft of the script is coming from screenwriter Jason Fuchs (Pan). Fuchs wrote drafts of Wonder Woman and Lobo, so he's no stranger to working on large-scale Warner Bros. projects.
Below, learn more about the new Minecraft screenwriter.
Variety was first to report Jason Fuchs' involvement with Minecraft. He'll be developing the latest script with Rob McElhenney before he starts writing it. Fuchs, who has a role in the upcoming La La Land, recently worked on Doug Liman's Luna Park and adapted Daniel Waters' young adult novel The Golden Circle.
Since Minecraft is a long way away, we don't know the story or what exactly McElhenney's vision is for the video game adaptation. What we do know is the game's developer Mojang AB (owned by Microsoft) is a major part of the project, according to producer Roy Lee (source: Collider):
They know everything is going to be in the movie that can give us insight into future updates, so we can put things into the movie around the same time they relaunch newer versions of the game and at the same time, potentially taking ideas from the movie and putting them into the game. So I don't know exactly what things are going into the game, but they know exactly what's going into the movie.
Lee, who produced The Lego Movie for Warner Bros., also gave some idea of what to expect from McElhenney's film:
Minecraft would be part of a multiverse where humans can enter that has the feel of what the live action version of a Minecraft experience.
So that is the concept Fuchs will have to play with when he starts writing the newest draft of Minecraft. The project seems more promising than most video game adaptations, mostly because the very funny Rob McElhenney is directing. He's directed a few episodes of  It's Always Sunny in Philadelphia and a pilot of a scrapped show starring comedian Bill Burr (F is for Family), but Minecraft is the actor, writer, and producer's feature directorial debut. It's a big project to take on, but McElhenney has expressed interest in directing big family adventure films in the past.
Minecraft opens in theaters May 25th, 2019.