'Meg' First Look: Jason Statham, Jason Statham's Turtleneck, And Li Bingbing Go Shark Hunting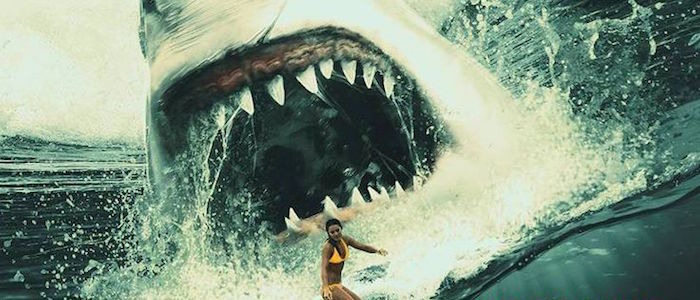 A film adaptation of Steve Alten's 1997 prehistoric killer shark book Meg: A Novel of Deep Terror has been on and off the table for the better part of two decades now. If you journey into the /Film archives, you'll find a 2007 post about how New Line was killing their version after years of failed development. From there, the film continued to wade through murky development hell, with various directors coming and going. Finally, earlier this year, National Treasure's Jon Turteltaub climbed on board, Jason Statham signed on to star, and some Chinese financing made the whole project feel like less of a risk for Warner Bros.
Now, the first image from Meg has arrived, an image that stands in defiance to both God and man. This movie has officially been willed into existence.
Anyone hoping for something involving a 75-foot-long killer shark that has inexplicably survived its species' extinction will just have to make due with Jason Statham and co-star Li Bingbing posing on set. She plays Suyin, the daughter of a brilliant oceanographer. He plays Jonas Taylor, deep-sea rescue diver who has a history with this giant killer shark and who knows how to rock a turtleneck. Not all men can rock a turtleneck like that and it goes a long way to making Statham look like a smart and science-y kind of guy. It's kind of like putting glasses on Tara Reid in Alone in the Dark.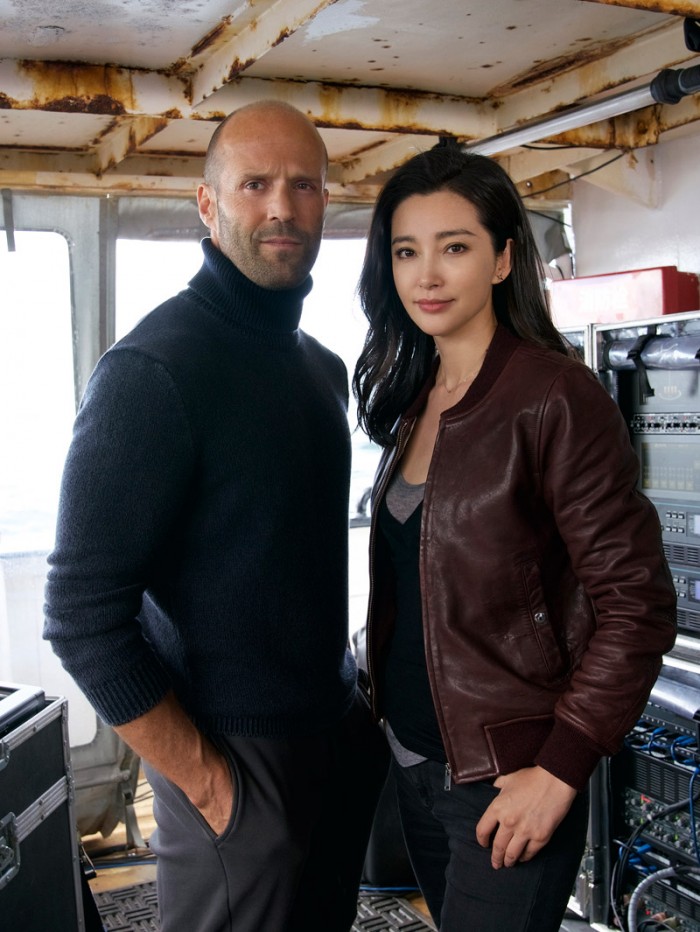 I originally read Meg when I was young enough to appreciate any novel that was about giant sea monsters tearing people from limb to limb and I remember enjoying it well enough at the time. I'm torn between revisiting it and letting my fond memories of ancient shark mayhem remain untouched. Anyway, the official plot synopsis of the film sounds similar enough to the book, although much of the supporting cast is now played by Chinese actors for obvious reasons:
A deep-sea submersible—part of an international undersea observation program—has been attacked by a massive creature, previously thought to be extinct, and now lies disabled at the bottom of the deepest trench in the Pacific...with its crew trapped inside. With time running out, expert deep sea rescue diver Jonas Taylor (Statham) is recruited by a visionary Chinese oceanographer (Winston Chao), against the wishes of his daughter Suyin (Li Bingbing), to save the crew—and the ocean itself—from this unstoppable threat: a pre-historic 75-foot-long shark known as the Megalodon. What no one could have imagined is that, years before, Taylor had encountered this same terrifying creature. Now, teamed with Suyin, he must confront his fears and risk his own life to save everyone trapped below...bringing him face to face once more with the greatest and largest predator of all time.
The rest of the Meg cast includes Cliff Curtis, Rainn Wilson, and Ruby Rose. The film is set for a March 2, 2018 release date.