'Billy Lynn's Long Halftime Walk' Featurette Explores "Immersive Experience" Of 120 FPS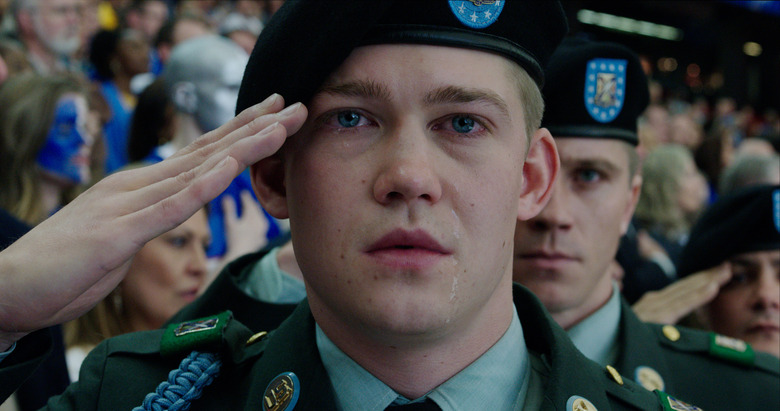 As the new movie by Ang Lee, and an adaptation of a highly acclaimed bestselling novel to boot, Billy Lynn's Long Halftime Walk would be one of our most anticipated movies of the fall no matter what. But the project's been getting special attention for the way it was shot and is being presented: in 120 frames per second. For comparison, most movies are in 24 fps; Peter Jackson made a very unusual move when he shot The Hobbit in 48 fps.
So, what does that high frame rate do, exactly? In a new featurette, Lee and his cast members talk up the "immersive experience" of 120 fps. Plus, there's a behind-the-scenes promo featuring NFL stars J.J. Watt and Richard Sherman, both of whom appear in the movie, and a more straightforward 30-second spot. Watch it all below. 
Based on the novel by Ben Fountain, Billy Lynn's Long Halftime Walk follows a squad of soldiers hailed as heroes after a harrowing firefight in Iraq. They're brought back to the U.S. for a victory tour, culminating in a glitzy halftime show at the NFL Thanksgiving Day football game. Scenes of Billy (Joe Alwyn) and his squad at the celebration are intercut with flashbacks to their experience in battle, and they're not pretty. "It is sort of weird being honored for the worst day of your life," muses Billy at one point.
Billy Lynn's Long Halftime Walk Featurette
Jackson's experiment with 48 fps didn't quite work out, as audiences seemed more put off than intrigued by the high frame rate. But Lee promises 120 fps will provide an "immersive experience" in Billy Lynn. The high frame rate is saved for the battle sequences, to give them a sort of hyper-realistic feel. Early reactions to the 120 fps have been promising, but even if the gamble doesn't quite pay off it looks like Billy Lynn will be worth watching in any frame rate.
Billy Lynn's Long Halftime Walk opens, appropriately enough, on Veteran's Day (November 11).
Director Ang Lee brings his extraordinary vision to Billy Lynn's Long Halftime Walk, based on the widely-acclaimed, bestselling novel. The film is told from the point of view of 19-year-old private Billy Lynn (newcomer Joe Alwyn) who, along with his fellow soldiers in Bravo Squad, becomes a hero after a harrowing Iraq battle and is brought home temporarily for a victory tour. Through flashbacks, culminating at the spectacular halftime show of the Thanksgiving Day football game, the film reveals what really happened to the squad – contrasting the realities of the war with America's perceptions. The film also stars Kristen Stewart, Chris Tucker, Garrett Hedlund, with Vin Diesel, and Steve Martin. Lee used new technology, shooting at an ultra-high frame rate for the first time in film history, to create an immersive digital experience helping him dramatize war in a way never seen before.