Universal's 'The Wolf Man' Gets Expendable With A New Screenwriter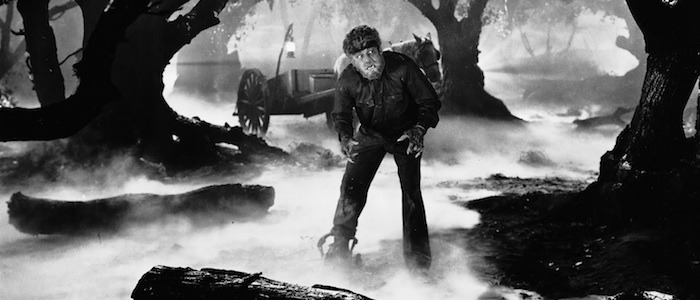 Universal must be feeling pretty good about the upcoming remake of The Mummy that's arriving next year because they keep on adding more names to their ever-expanding monsters universe. The latest person to have their name thrown into the ring is screenwriter David Callaham, who has been tasked with resurrecting The Wolf Man.
The Hollywood Reporter has the story. Callaham's filmography is full of big and often silly action movies like The Expendables, The Expendables 2, and Doom and while that doesn't necessarily reflect the kind of movie everyone is setting out to make, it won't ease the fears of anyone worried that these new Universal monster movies will be more focused on action than horror. However, it should be noted that Callaham is also credited on 2014's Godzilla and the long-gestating Zombieland 2, so it's not like he hasn't worked with movie monsters before. He's also created the comedy TV series Jean-Claude Van Johnson, which Amazon recently picked up for a full season. The gentleman has range!
For the record, Callaham is the second writer brought on to remake The Wolf Man, following in the footsteps of Prisoners writer Aaron Guzikowski. Other writers currently toiling away at new Universal monster movies include Noah Hawley, Ed Solomon, and David Koepp.
It's not clear what we can expect from The Wolf Man and we probably won't be able to wager a guess until we see the first preview for The Mummy, which stars Sofia Boutella as the title monster and Tom Cruise as her human adversary. The only thing we know for certain is that Universal wants these movies to be star-studded affairs, with Johnny Depp attached to play the Invisible Man, Russell Crowe on board as a new version of Dr. Jekyll, and Javier Bardem suiting up as Frankenstein. Early rumors have suggested that Universal wants Dwayne Johnson to play the new Wolf Man, which would be a huge departure for a character who has been typically portrayed as more mild-mannered before the full moon spurs on an unwelcome transformation.
Unlike The Mummy, which was successfully remade in more of an adventure movie mold in 1999, The Wolf Man has a more complex recent history. The film was remade in 2010 with a perfect cast (including Benicio del Toro and Emily Blunt) and the best intentions (it's very much a traditional gothic horror movie), but a notoriously troubled production and weak box office made it one of Universal's more infamous misfires. Hopefully, a new version won't lose sight about what did work about that version while rectifying the issues.
The Wolf Man is currently set for an April 13, 2018 release date.