'Dirk Gently's Holistic Detective Agency' Trailer, Featurette & Clip Bring Douglas Adams' Book To Life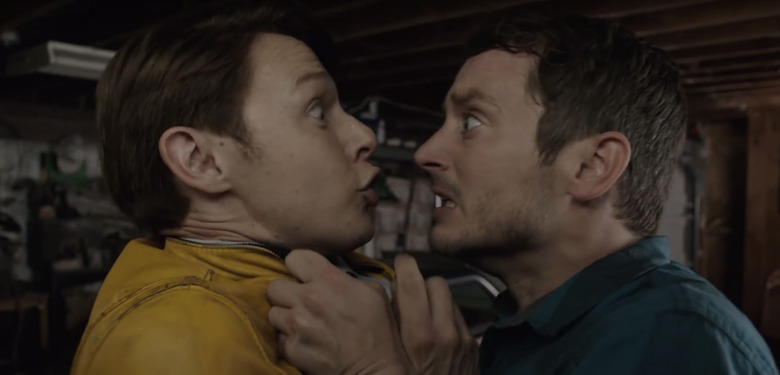 Douglas Adams' comedic detective novel Dirk Gently's Holistic Detective Agency has already been given a TV series adaptation across the pond on BBC Four. But now BBC America is bringing us an American adaptation with just the right amount of British influence, this time created and written by Chronicle and American Ultra writer Max Landis.
Dirk Gently's Holistic Detective Agency stars Elijah Wood as a directionless former rocker named Todd who finds himself caught up in a mystery involving the titular time-traveling detective (played by Samuel Barnett). While Todd wants nothing to do with Dirk Gently, the energetic private eye believes that the universe will make him an integral part of what happens next, whether he likes it or not.
Somehow we missed the first Dirk Gently's Holistic Detective Agency trailer when it arrived a couple months ago, but we've included it below along with a new featurette that has plenty of Max Landis hyping the show, as well as the first scene from the series featuring Todd meeting Dirk Gently for the first time. Watch all of those videos below.
First up, here's the trailer that originally arrived back in August after playing at San Diego Comic-Con:
And here's the featurette with an endlessly enthusiastic Max Landis, a kitten and a corgi:
Finally, here's the first clip where Todd meets Dirk, giving us the best impression of what this show will be like:
I'm getting a good vibe from all of this footage, which feels like a mix of Sherlock, Doctor Who and Bored to Death. The energy brought to the table by both Elijah Wood and Samuel Barnett is rather infectious, and I'm anxious to see how all the sci-fi elements come into play on the show.
Max Landis has been known to over-hype his projects followed by a payoff that doesn't quite live up to expectations. But maybe TV will be the right medium for all his ideas to truly come to fruition. After all, he's an executive producer on the show this time, giving him a little more control, even though the show is still being directed by other talents, including a couple episodes from Galaxy Quest helmer Dean Parisot.
Corpses—cops—trap—cult—assassins—Pararibulitis—vampires—lottery ticket—kitten—corgi—EVERYTHING IS CONNECTED! Welcome to the world of BBC AMERICA's Dirk Gently's Holistic Detective Agency; a trippy mystery that thrusts a reluctant sidekick into the bizarre world of an unconventional detective who believes in the interconnectedness of all things.
When washed-up rocker Todd Brotzman (Elijah Wood) stumbles upon the murder scene of a millionaire, all hell breaks loose. Eccentric detective, Dirk Gently (Samuel Barnett), wholly believes they're destined to untangle the peculiar events surrounding the mystery together, whether Todd likes it or not! A collection of wild and dangerous characters' further infiltrate and complicate their world, each episode landing them a few random steps closer to uncovering the truth.
Penned by Max Landis (American Ultra, Chronicle), Dirk Gently's Holistic Detective Agency is an adaptation of the wildly popular novels by Douglas Adams (A Hitchhiker's Guide to the Galaxy), from the studio that produces The Walking Dead.
Dirk Gently's Holistic Detective Agency debuts on BBC America on October 22.