'Operator' Trailer: What If Martin Starr Prefers The Siri Version Of Mae Whitman?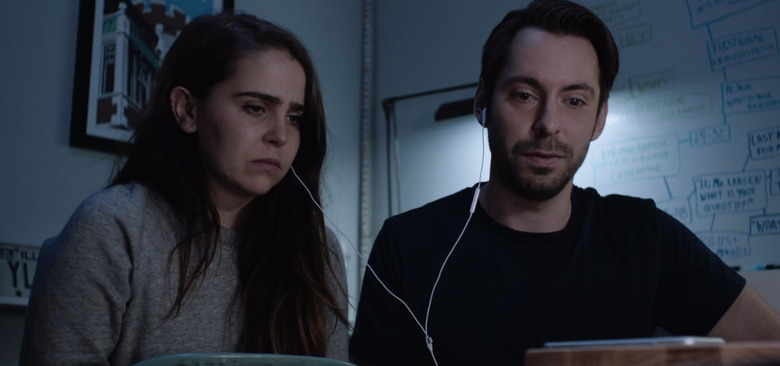 After Her explored how artificial intelligence may become a new outlet for humans to find love, a new film that played at SXSW earlier this year feels like a kindred spirit. It's one that's a little more grounded in reality, but still uses technology as the catalyst for romantic confusion.
Operator follows Martin Starr as a software developer whose team is tasked with creating a new voice for a Siri-like program on a smartphone. After getting a nice, calm chat from his wife (Mae Whitman), he decides that she would make the perfect new voice. But then he starts preferring the company of her presence on the phone instead of her in real life.
Watch the Operator trailer after the jump.
The film doesn't feel quite as smart as Her, but a review from RogerEbert.com does give the screenplay (written by director Logan Kibens and co-writer Sharon Greene) praise with a comparison to the Spike Jonze film:
The screenplay by Kibens and Sharon Greene has echoes of Spike Jonze's Oscar-winning script for "Her," but that's certainly good company to keep. "Operator" begins as a very funny, very Chicago comedy, but its two lead performances (including the best work of Whitman's career) carry the film to uncommon insight into how we relate, emote and will always need the spontaneity of the human experience.
Martin Starr and Mae Whitman do lend an authenticity to the proceedings that don't make it feel as otherworldly as something like Her. At the very least, the concept seems more immediately plausible, and thus perhaps easier to connect to on an emotional level. At the very least, the presence of so many great comedy talents like Nat Faxon, Retta, and Cameron Esposito should make it thoroughly entertaining.
Joe (Martin Starr) loves data. He tracks his diet and exercise, his mood and sex life – turning the information into beautiful charts that help him control his often overwhelming anxiety. At work Joe designs personalities for digital customer service voices, but his latest robo-agent for a client is a disaster. In a moment of inspiration he enlists his wife Emily (Mae Whitman) to serve as the template for the redesigned voice. The project goes well until Joe's obsession with replicating his wife's empathy threatens their marriage.
Operator arrives on November 8.