Cool Stuff: Hero Complex Gallery's NYCC Art For 'Ghostbusters,' 'Lord Of The Rings' & More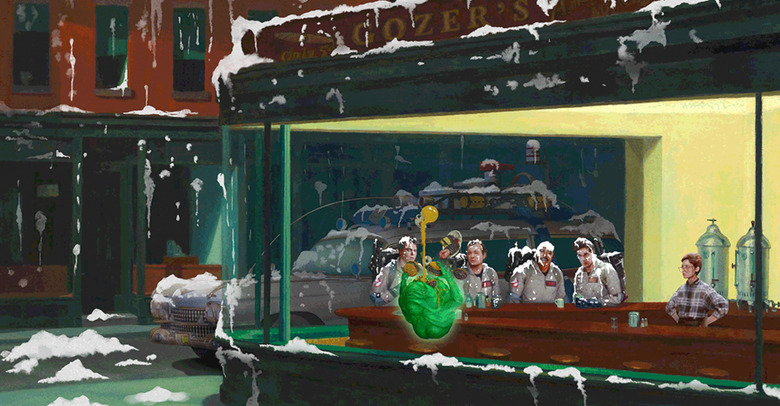 New York Comic-Con has been finished for a few days now, but that doesn't mean you can't pretend like you were there by picking up some of the artwork from Hero Complex Gallery that was unveiled at the convention.
Right now the collectible art gallery has a bunch of new pieces straight from NYCC featuring Ghostbusters, Lord of the Rings, The Professional, Misery, Harry Potter, RoboCop, How to Train Your Dragon, The Fifth Element, Pulp Fiction and more.
Check out all the Hero Complex Gallery NYCC 2016 art available after the jump.
As a massive Ghostbusters fan, I love all the iterations of Casey Callender's "Nightbusters" piece (a variation on the classic piece of art called "Nighthawks" by Edward Hopper), as well as Vance Kelly's vibrant "Don't Cross the Streams" print. But Marko Manev's trios of new pieces for Lord of the Rings are quite marvelous as well.
In case you didn't notice, that Harry Potter and the Sorcerer's Stone piece from Ape Meets Girl is in this batch, and there are still copies on sale in the Hero Complex Gallery shop, though the alternate color variant is completely sold out.
Each of these pieces have a different edition, a few of them have variants, and they're all on sale right now over at Hero Complex's online shop while supplies last. If prints aren't your thing, there are also a bunch of cool enamel pins inspired by Big, Stranger Things, Cast Away, Back to the Future, Gremlins, Lost and more. Here's some of them:
Head over to Hero Complex Gallery to see all the NYCC goodies available for purchase right now.