New 'Doctor Strange' International Trailer Shows Off The Cloak Of Levitation And Benedict Wong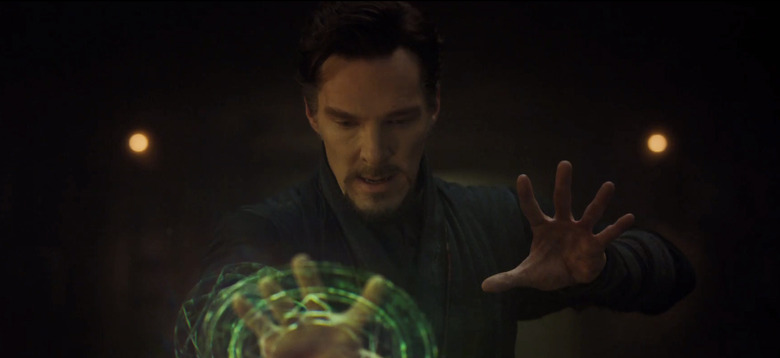 We're less a month out from the release of Doctor Strange and I don't know about you guys, but I'm feeling pretty good about this one. Stephen Strange has been one of my favorite comic book characters for a long time, I've enjoyed the past work of director Scott Derrickson, and Marvel is still riding high from Captain America: Civil War, a movie that works about as well as a superhero movie possibly can. Plus, Marvel keeps on sending me and my fellow film writer colleagues those checks every month, allowing me to continue surrounding myself with solid gold Ferraris and diamond-encrusted toilet seats and what-not.
I kid, of course. I'm a writer. I live in a cardboard box. How about a new Doctor Strange international trailer to tide us over for the next few weeks?
The basic structure of this trailer is similar to those we have seen before, but there are enough snippets of new footage to make this thing worthy of your time. I especially like the shot of Benedict Cumberbatch looking on the red Cloak of Levitation as it literally hovers inside of a glass storage case. Plus, this trailer gives us our best look yet at Benedict Wong as, er, Wong, who has been updated from "faithful manservant" (ugh) to "fellow practitioner of the mystic arts."
What the trailer doesn't show off is all of that really weird and trippy imagery that was revealed in a recent IMAX featurette. While Doctor Strange does look like a fairly standard superhero origin story in its basic structure, nothing makes me happier to know that the final film appears to be really embracing the wild visuals artist Steve Ditko created during the character's early days. A toned-down Doctor Strange isn't Doctor Strange at all.
Doctor Strange opens on November 4, 2016. If you've managed to avoid any all movie news for the past year or so, here's what you need to know:
From Marvel Studios comes "Doctor Strange," the story of world-famous neurosurgeon Dr. Stephen Strange whose life changes forever after a horrific car accident robs him of the use of his hands. When traditional medicine fails him, he is forced to look for healing, and hope, in an unlikely place—a mysterious enclave known as Kamar-Taj. He quickly learns that this is not just a center for healing but also the front line of a battle against unseen dark forces bent on destroying our reality. Before long Strange—armed with newly acquired magical powers—is forced to choose whether to return to his life of fortune and status or leave it all behind to defend the world as the most powerful sorcerer in existence.
"Doctor Strange" stars Benedict Cumberbatch, Chiwetel Ejiofor, Rachel McAdams, Benedict Wong, Michael Stuhlbarg, Benjamin Bratt and Scott Adkins, with Mads Mikkelsen and Tilda Swinton. Scott Derrickson is directing with Kevin Feige producing. Louis D'Esposito, Stephen Broussard, Victoria Alonso, Charles Newirth and Stan Lee serve as executive producers. Jon Spaihts and Scott Derrickson & C. Robert Cargill wrote the screenplay. Join Strange on his dangerous, mystifying and totally mind-bending journey when Marvel Studios' "Doctor Strange" opens in U.S. theaters on November 4, 2016.